Atlantic Quay 3
19th June 2017 By Clark Contracts Ltd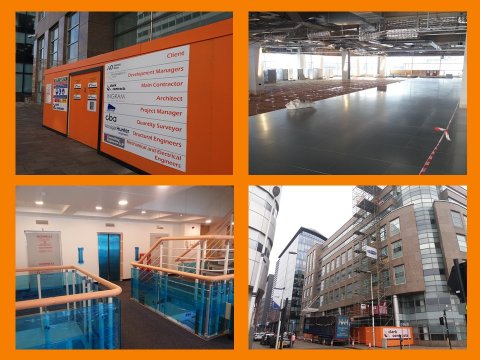 We are on site delivering the £5m fit out of 8 levels within 3 Atlantic Quay in Glasgow's IFSD (International Financial Services District) for our client Atlantic Quay Three Ltd.
The project will see us strip out and remodel office suites, common areas, toilets and lift lobby's from the basement level up to the 6th floor in addition to the reception area on the ground floor.
The project is registered with the Considerate Constructors Scheme (CCS) (Reg No: 102931) and will be audited twice by CCS auditors during its 7 month duration.
Neighbours to the site have been notified about the construction works and have been given contact details of the team working at Atlantic Quay.
Social Enterprise, Spruce Carpets, was engaged to remove the existing flooring within the Glasgow City Centre site and has salvaged 2,318m2 of re-usable carpet tiles. The remaining 4,304m2 of carpet tiles were segregated for recycling.
Our site team have ran a poster competition inviting all personnel on site to encourage their children to design a poster about keeping safe on site in order to raise awareness of health and safety best practice. Prizes will be awarded to the top 3 posters submitted.
A foodbank collection has also been organised by the team encouraging those working on the site and in the surrounding office space to donate food which will be delivered to the local Trussell Trust foodbanks.
Our Community Benefits Manager, David Cooper and site team are engaging with City of Glasgow College to arrange a site visit for pupils studying construction based subjects at the college which is located 1 mile from the site at Atlantic Quay.
Look out on our social media profiles for our CCS audit scores in the coming weeks.
Look inside our Head Office:
Look inside our Edinburgh Office