Buchanan Bus Station Refurbishment
23rd January 2019 By Clark Contracts Ltd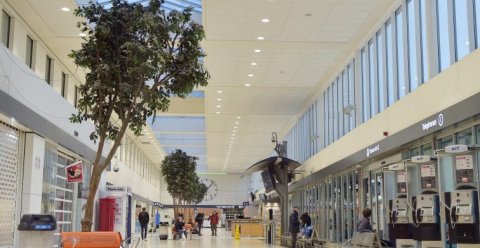 The contract for the refurbishment of Buchanan Bus Station has been awarded by SPT Partnership to Clark Contracts.
The £580k project is the first phase of the refurbishment plans which include decluttering of the main concourse to improve passenger flow and the look and feel of the bus station. As well as removing the artificial trees and relocating seating within the concourse, left luggage and security scanner will also be relocated with the addition of new public toilets.
Bus staff and operator facilities will also be improved behind the scenes and there is opportunity for more retail facilities within the bus station.
Future enhancements planned for further phases will consider improvements to customer information, customer facilities and to the fabric of the building.
SPT chair Councillor Dr Martin Bartos said: "Although there was some office refurbishment in the bus station three years ago, the main station concourse hasn't been seriously spruced up for a long time. I'm very pleased to say SPT is going to be investing over half a million pounds next year in the first phase of refreshing it for the public.
As well as passengers using the bus station, a significant number of pedestrians walk through it between the city centre and Glasgow Caledonian University. By improving the concourse, we will be able to help the flow of people which will make the station more pleasant for everyone."
Gerry Cummins, Director, Clark Contracts, said "It is fantastic to be working with SPT again to deliver this vital refurbishment. We look forward to delivering the project to improve the facilities available at Buchanan Bus Station."
Look inside our Head Office:
Look inside our Edinburgh Office