Careers Evening being held by Clark Contracts
7th February 2020 By Clark Contracts Ltd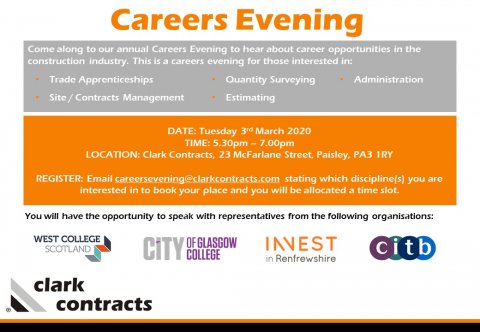 Clark Contracts is holding its fifth annual careers evening at its Head Office in Paisley on Tuesday 3rd March 2020.
The contractor, who won the 'Best Place to Work' award at the Construction News Talent Awards 2019, is offering apprenticeships and traineeships for various trades, quantity surveying and contracts and site management.
The event is being held on Tuesday 3rd March from 5.30pm – 7.00pm at Clark Contracts' Head Office, 23 McFarlane Street, Paisley, PA3 1RY. Those interested in attending must email careersevening@clarkcontracts.com stating which discipline they are interested in before being allocated a time slot.
Attendees will have the opportunity to meet with the company's Recruitment Team and current employees to find out more about careers at Clark Contracts and how they can progress through the company's highly successful Academy.
The company's partners from Glasgow Caledonian University, West College Scotland, the City of Glasgow College, the Construction Industry Training Board and Invest in Renfrewshire will also be in attendance.
Clark Contracts is committed to ensuring new talent is recruited into the business and the industry as a whole.
Gordon Cunningham, Managing Director, Clark Contracts said, "Our careers evening is an important part of our year with over 200 people attending in 2019. We are committed to people in the local community who want to forge a career in the construction industry and invest heavily in the training of our employees with £750k spent on training in 2019. We very much look forward to meeting those interested in joining us in March".
Founded in 1978, Clark Contracts Ltd is a privately owned main contractor with six operating divisions; Construction, Fit Out, Small Works, Retail, Maintenance and Manufactured Joinery. The company works throughout the UK, employing over 250 employees and is number 72 on the 2018 Sunday Times Best Companies to Work for List. The proportion of business derived from repeat customers each year has averaged 79% over the past ten years and 72% of customers rate the contractor as 'Impressive' or 'First Class'.