Clark Contracts 7th Annual Spring Classic
16th May 2018 By Clark Contracts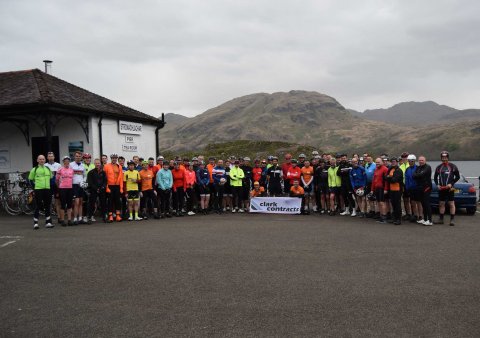 On Friday 11th May 2018 we held our 7th annual Spring Classic at Loch Katrine where our Clark Contracts cycling team were joined by 65 customers.
During the 30 mile cycle around the banks of Loch Katrine, there were five prizes up for grabs for the fastest Hill Climb, Time Trial, Overall Winner, Overall Female Winner and Overall Team Performance.
There was some fierce competition for the team prize, with teams entered by 3D Reid Architects, Axiom, Cooper Cromar, David Narro Associates, Harley Haddow, Henderson Warnock, Hurley Palmer Flatt, Keppie Design, Pinsent Masons, Ramage Young, Stallan-Brand, Struer Consulting Engineers, Wardell Armstrong and Woolgar Hunter.
The ride kicked off with a group ride to the start of the iconic Dukes Pass, where the competition began with a Cat 3 hill climb stretching over 3 miles with competitor's times ranging between 11 and 23 minutes.
It was a good start to the competition for Enda Williamson from Wilson + Gunn Architects, who recorded an impressive time of 11 minutes and 09 seconds, 50 seconds faster than 2nd placed Bill Black of Richard Murphy Architects. Enda was presented with the 'King of the Mountains' jersey for his efforts.
Following the gruelling hill climb, the riders had a short pit stop before making their way to the start of the 3 mile time trial competition. Enda Williamson continued to impress, completing this section within an impressive 6 minutes and 34 seconds with all of the cyclists completing the time trial within 15 minutes.
As Enda had won both competitions he was also our overall winner. However, as he had already been presented with the Polka Dot jersey, the yellow jersey for the winner of the best time trial was presented to Manuel Cozzani of 3D Reid Architects who came in second place with a time of 6 minutes and 57 seconds.
The Rainbow Jersey for overall performance, was then presented to Bill Black of Richard Murphy Architects who had an impressive combined time of 18 minutes and 57 seconds.
The Maglia Rosa jersey, for the best overall female performance was presented to Hannah Freireich of Woolgar Hunter who recorded an overall time of 24 minutes and 8 seconds.
The Overall Team Prize was scooped up by 3D Reid Architects, who were closely followed by Pinsent Masons.
Following a quick refuel and the prize-giving, there was a group cycle back to Trossachs Pier before everyone headed home after a hard days' work.
This year, we made the decision to make the event a charity cycle, with a donation being made to our nominated company charity Teenage Cancer Trust. Thank you to everyone who joined us. You can view the full results from the cycle below. If you would like to take part in next years' event please contact info@clarkcontracts.com.
You can view more photos from the event here.