Clark Contracts attend 'Hidden Gems' Supported Business Event
25th September 2019 By Clark Contracts Ltd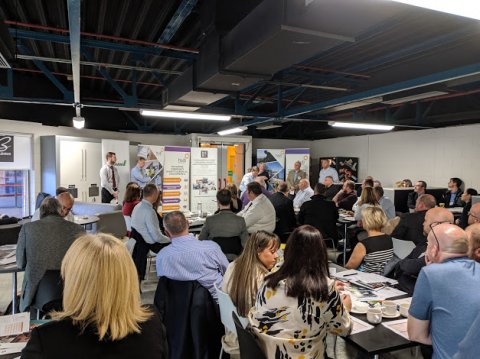 Clark Contracts, the construction, refurbishment and maintenance contractor attended the 'Hidden Gems' Scotland's supported business event in Glasgow on Tuesday 24th September.
The event organised by hub West Scotland and hub South West Scotland in Glasgow allowed the main contractor to engage with supported businesses operating in the construction sector. The afternoon comprised of presentations and trade exhibitions from the supported businesses and speed networking.
There are a number of supported businesses across Scotland, providing support and employment to integrate local disabled and disadvantaged people both socially and professionally. Some of the supported businesses in attendance were Royal Strathclyde Blind Industries, North Lanarkshire Industries, Dovetail, Scotland's Bravest, Spruce Carpets, Glasgow Wood Recycling, YES Works, Haven Products and All Cleaned Up.
Clark Contracts, who are a Primary Contractor on hub West Scotland's supply chain, are committed to helping to deliver inclusive growth and engaging with both supported businesses and social enterprises on their contracts and have recently worked with Spruce Carpets, CCI Scotland and Haven Recycle.
Spruce Carpets were engaged by Clark Contracts on the £14m fit out of Atlantic Quay 3 in Glasgow, where they removed the existing carpet tiles, with the tiles being salvaged for re-use where possible and the remainder being segregated for recycling.
The Paisley based contractor, also worked with award-winning social enterprise CCI Scotland on a number of construction projects including four early years centres delivered for The City of Edinburgh Council, Kinnaird Early Years Campus for Falkirk Council and the restoration of Saughton Park, also for The City of Edinburgh Council.
In addition, Clark Contracts have an ongoing partnership with supported business, Haven Recycle, which operates an accredited Waste Electrical and Electronic Equipment (WEEE) recycling facility, for the recycling of old IT equipment.