Clark Contracts complete partnership with Teenage Cancer Trust
28th February 2020 By Clark Contracts Ltd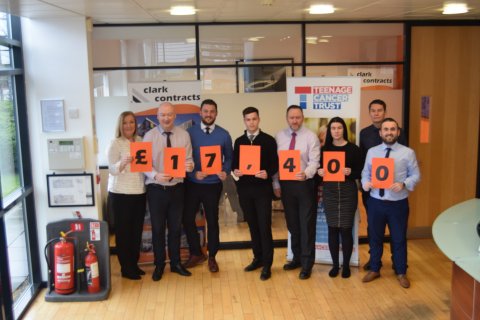 At the end of 2019, Clark Contracts' completed their 18-month partnership with Teenage Cancer Trust, having raised £17,400 for the charity.
Clark Contracts began their fundraising partnership with Teenage Cancer Trust in April 2018 with an initial goal of raising £10,000 for the charity.
The money was raised through various office fundraising events organised by the company's Steering Group, including an Easter Hamper Raffle, Halloween Bake Off and staff participation in Movember.
Employees also participated in a number of organised events, including Tough Mudder, which raised £1,600, Spring Classic Cycling event which raised over £2,000 and a group of seven employees took part in Teenage Cancer Trust's Autumn Skydive which raised £1,800 for the charity.
Audrey Murray, Regional Fundraising Manager in Scotland for Teenage Cancer Trust said, "Teenage Cancer Trust nurses, support teams and special hospital wards help young people cope with some unimaginably hard times. But without companies like Clark Contracts, these specialist services would simply not be there – and we can't thank their teams enough for supporting our charity."
Gordon Cunningham, Managing Director, Clark Contracts added: "It has been fantastic to be partnered with Teenage Cancer Trust and to see our employees participating in numerous fundraising events to help support the charity. We are delighted to have exceeded our initial target by more than 50% which will provide 580 hours of care from a Teenage Cancer Trust Nurse!"
Teenage Cancer Trust create world-class cancer services for young people in the UK, providing life-changing care and support so young people don't have to face cancer alone. All monies raised will help Teenage Cancer Trust with their aim of reaching every young person between the ages of 13-24 and providing them with access to specialist care and peer support. You can read more about the work Teenage Cancer Trust do on their website.
Clark Contracts look forward to announcing their new nominated company charity is the coming weeks!