Clark Contracts complete refurbishment of new innovative technology centre
3rd May 2023 By Clark Contracts Ltd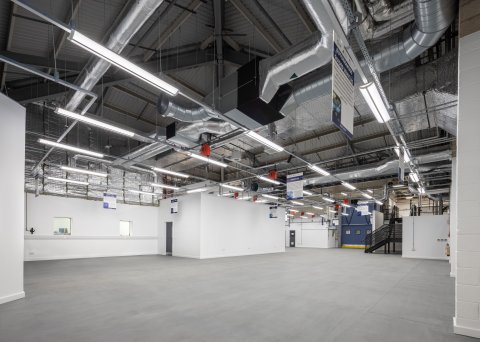 Clark Contracts has now completed works to create Ayrshire's new Digital Process Manufacturing Centre (DPMC), which is part of the National Manufacturing Institute Scotland (NMIS).
The new centre, located at the Booth Welsh manufacturing space in Irvine, is a partnership between the University of Strathclyde as the operator of NMIS, North Ayrshire Council and CPI.
The existing building underwent refurbishment works, with the formation of demonstration zones, a terraced area, a lecture area featuring bespoke curved ceiling baffles, and breakout space.
The aim of the DPMC is to accelerate the adoption of digital technology for process industry manufacturers to help cut energy costs and achieve net zero by becoming more aware, predictive, and productive.
Opening later this year, the DPMC will also act as a beacon for ambitious global businesses as the region undergoes transformation as part of the Ayrshire Growth Deal.
Gerry Cummins, Director at Clark Contracts, added, "It has been great to work with North Ayrshire Council, the University of Strathclyde, and the wider project stakeholders to deliver this specialist technology centre. The DPMC will provide huge benefits for businesses in the manufacturing centre, as they seek to embrace technology and innovation.
Look inside our Head Office:
Look inside our Edinburgh Office