Clark Contracts complete residential conversion of Westwood House
14th November 2019 By Clark Contracts Ltd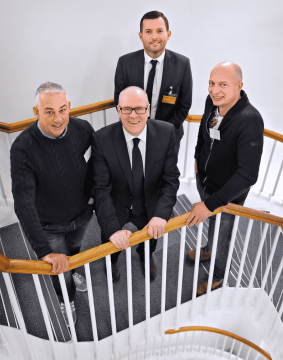 Housing minister Kevin Stewart MSP officially opened LAR Housing Trust's biggest housing development to date following work carried out by Clark Contracts.
Westwood House in the west end of the city is LAR's first commercial to residential conversion and its largest financial deal since it launched four years ago.
The Minister was visiting Westwood House on Gorgie Road to officially open the multi million pound development and hand over keys to the first tenants. This was Mr Stewart's second visit to Westwood House having toured the site during conversion work earlier this year.
LAR Chair, Andrew Robertson said: "This is a significant moment in our short history and we're delighted to welcome the Minister here once again. Westwood House was our first deal in Edinburgh and, at 47 properties, our biggest completed development to date anywhere in Scotland.
"There is no doubt that Edinburgh is in great need of quality mid-market rental homes and we're very grateful for the continued support of the Scottish Government and the help we've received from the City of Edinburgh Council. We are actively looking for more development opportunities in the city."
Mr Stewart added: "I am pleased that the Scottish Government's £55 million loan has enabled LAR Housing Trust to undertake a broad range of developments that contribute to the supply of new, affordable homes in Scotland.
"This is another important milestone for LAR as it continues to deliver against its target of 1,000 affordable homes across Scotland. Working innovatively with partners like LAR is an example of how we are delivering our 50,000 target for new affordable homes, while also increasing the supply of housing options so everyone in Scotland has access to affordable, good quality homes that meet their needs."
Demand for homes at the development has been high with all properties allocated after just two viewing sessions. Westwood House consists of 18 one-bed, 27 two-bed and two three-bed properties with the top floor flats enjoying enviable views towards the Castle.
Michael Scanlan, director of Clark Contracts, said: "It has been great to work with LAR Housing Trust and the design team on this exciting development and helping them tackle the shortage of mid-market rental homes across Scotland. We hope to continue our relationship with them in the future."
Housing charity LAR has earmarked Edinburgh as a key focus for future development as it tackles the shortage of mid-market rental properties across Scotland and has purchased 40 units in another office conversion in the area. Elfin Square, next door to Westwood House, is also due to welcome its first tenants in the next couple of months.
LAR was set up in October 2015 to provide good quality homes around Scotland at mid-market rents. It now has over 700 homes occupied, under construction or in the planning process at 27 sites around Scotland.