Clark Contracts completes construction of pioneering retirement village in Newton Mearns
21st February 2020 By Clark Contracts Ltd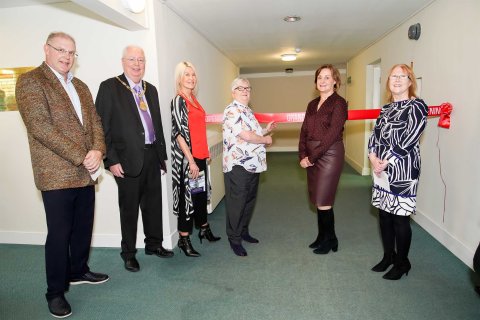 A new phase of retirement homes officially opened on 20 February 2020 at the Hugh Fraser Retirement Estate, formerly the cottageHOMES estate, in Newton Mearns, Glasgow.
A pioneering first, these innovative retirement homes in Don McCarthy Court combine residential supported living with digitally-connected smart home technology. They are among the first in Scotland to use voice and motion activated technology to provide round-the-clock assistance, security, reassurance and companionship. This new phase of homes, constructed by Clark Contracts, has been named after the philanthropist and long-time retailTRUST ambassador, Don McCarthy MBE.
The residents are all retirees with connections to the retail sector or supporting service industries. Enabled by the new smart home technology, from switching on their lights by voice activation, to setting voice prompts for medical appointments, residents will maintain their independence and wellbeing in their new homes.
Rather than relying on the traditional alarm-cord communications, the smart home technology provides 24/7 active monitoring. The intelligent software learns a resident's daily routine, tracking typical behaviour, and then proactively alerting staff if part of that routine has been missed.
This reassures both the residents and their loved ones that help is on hand, preventing distressing incidents from occurring, and getting help where it is needed much more quickly.
Residents can also enjoy increased access to the outside world. Keeping in touch with family and friends through video calls, turning on the radio or television, and accessing local online services. The voice-controlled smart speaker also provides companionship and entertainment for any resident less confident with technology or with reduced mobility, helping reduce feelings of isolation.
The redevelopment at the Hugh Fraser Retirement Estate was supported by a £5 million funding package from Bank of Scotland, a sum that forms part of the bank's £1.6 billion lending pledge.
Richard Boland, Chief Executive of retailTRUST stated: "We're really excited by the possibilities this new technology offers, and the opportunity it provides to revolutionise the traditional supported living sector. Over the next five years, this new development will provide 100 much-needed residences, offering affordable, high-quality housing to the local area where people can experience an independent, safe and socially connected retirement for longer."

Patricia Fraser, Trustee of The Hugh Fraser Foundation, one of the estate's earliest benefactors said: "The Fraser family, and especially my father, the late Sir Hugh, have had a very close affinity with cottageHOMES since well before the first buildings were established in the 1960's. My father's great vision and philanthropy in bestowing the land to cottageHOMES created a strong bond which has been continued by The Hugh Fraser Foundation supporting the development of the estate for residents over five decades. It is a relationship which has stood the test of time and we at the Foundation are pleased we could offer £500,000 to support this phase of the redevelopment."
Michael Scanlan, Director of Clark Contracts added: ""It was great to work with retailTRUST to create this innovative new housing at the Hugh Fraser Retirement Estate which will transform the lives of many older people living in and around the Glasgow area. We look forward to continuing relationship with retailTRUST and handing over our second phase of works in the coming weeks."
Photography credit of Victoria Middleton Photography.