Clark Contracts delivering £3m Stevenston Supported Living development
25th March 2022 By Clark Contracts Ltd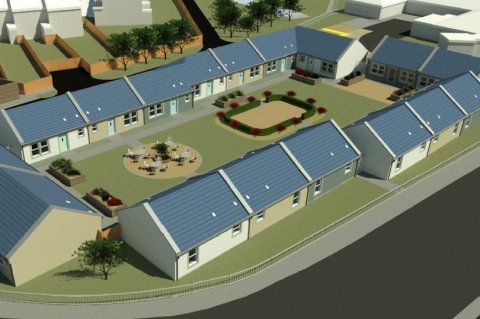 Clark Contracts are currently on site delivering the £3m construction of a new supported living complex at Caley Court in Stevenston for North Ayrshire Council.
The site, which was formerly a sheltered housing complex, is undergoing re-development to create 15 new supported accommodation homes. The development will comprise of 12 one-bedroom homes and 3 two-bedroom homes which will share a communal garden and courtyard.
The homes have been designed to be accessible and will be able to be easily adapted to meet resident's individual needs, with a 24-hour on-site staff base.
The works, which have been supported by funding from the Scottish Government, commenced in August 2021 and are scheduled for completion by the end of Summer 2022.
Yvonne Baulk, head of service (Physical Environment) at North Ayrshire Council, said: "Our vulnerable residents often need extra support to live in a safe and healthy environment, and we hope that our supported accommodation will enable them to live comfortably and as independently as possible.
"We are proud of the plans that have been drawn up for Caley Court – we hope and expect the new homes to have a significant impact on not only the residents but also their families."
Michael Scanlan, Director, Clark Contracts added, "We are delighted to be continuing our relationship with North Ayrshire Council to deliver this project, which will allow the Health and Social Care Partnership to provide vital supported accommodation to residents, enabling people to live as independently as possible in their own homes."
Clark Contracts are also currently working with North Ayrshire Council to deliver the £2.5m refurbishment of Marress House in Irvine to create a new Early Years Centre and professional learning and development facility, and the £10m construction of the new Moorpark Primary School in Kilbirnie.