Clark Contracts hold 10th annual 'Spring' Classic raising over £2,000 for SAMH
27th May 2022 By Clark Contracts Ltd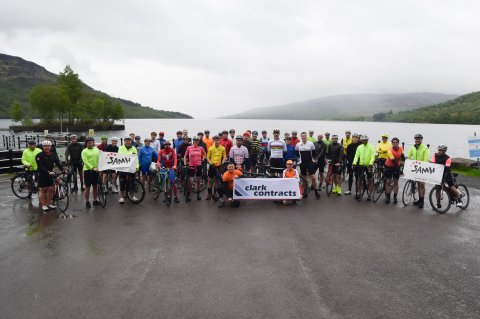 On Friday 20th May, Clark Contracts held their 10th annual Spring Classic at Loch Katrine, which raised over £2,000 for the Scottish Association for Mental Health (SAMH).
The event, which involved a 30 mile cycle around the banks of Loch Katrine, was attended by over 60 cyclists from the construction industry.
Unfortunately the sun didn't shine, however the rain didn't dampen too many spirits. The ride started at Trossachs Pier, with the cyclists competing for prizes for the fastest Hill Climb, Time Trial, Overall Winner, Overall Female Winner and Overall Team Performance.
The iconic Dukes Pass marked the start of the hill climb where the competition began with a Cat 3 hill climb stretching over 3 miles where the riders battled to be awarded the 'King of the Mountains' jersey.
Enda Williamson of Wilson + Gunn Architects, was first to the top with a time of 10 minutes and 46 seconds, which was an impressive time considering the adverse weather conditions. Enda was followed by Matt Ansell from META architecture, who was the winner of our inaugural Spring Classic in 2012, with a time of 11 minutes and 16 seconds.
After a quick rest at the top of the gruelling hill, the riders made their way through Aberfoyle and to the start of the 3 mile time trial competition.
There was some fierce competition during this section, with Enda and Matt again being the star performers, with Enda beating Matt to the title by 9 seconds and all riders completing this section in under 15 minutes.
Following the time trial, it was time for a quick pit stop at Stronachlacher for some tea, coffee and cake before our prize-giving ceremony!
Following his impressive performance in both competitions, Enda Williamson of Wilson + Gunn Architects, who previously won the event in 2018, was crowned the overall winner, with the prize from the Hill Climb presented to runner up Matt Ansell of META architecture, and the time trial prize presented to third place, Gary Clark of Rybka.
Hannah Freirich of Will Rudd Davidson was presented the Maglia Rosa jersey for the best female performance, which was a 3rd victory at the event for Hannah.
Next up was the team prize, with teams entered by Brodies, Dougall Baillie Associates, Maven Capital Partners, Michael Laird Architects and META architecture, Woolgar Hunter and a combined team of three from hub South West Scotland, TCS Construction Consultants and Robert Potter and Partners.
With Matt Ansell of META architecture's impressive performance, along with that of his former colleagues from Michael Laird Architects, it was no surprise that their team came out on top.
An impromptu prize was also required, for David Gordon of EDP Consulting Engineers, who attended in full fancy dress as Spiderman, after colleagues promised they would make a substantial donation to SAMH if he did.
Following a short rest, the cyclists made their way back to Trossachs Pier round the north of Loch Katrine before everyone headed home.
Rachael Martin, Corporate Partnerships Fundraiser at SAMH said: "We were absolutely delighted to see that Clark Contracts wanted to support. It's a brilliant challenge and it's so lovely to feel the ongoing support and motivation of this team who have raised a fantastic amount for SAMH this year. These funds will go a long way to helping us be there for people in Scotland who need support with their mental health. It's been a tough couple of years and the demand for mental health information and support is increasing. With the support of companies like Clark Contracts and their amazing teams, we're able to be there for people across Scotland and we can't thank you enough."
If you have not already registered your interest in attending our Spring Classic and would like to join us for future events please email info@clarkcontracts.com.