Clark Contracts hold 11th annual 'Spring' Classic raising over £2,000 for SAMH
1st June 2023 By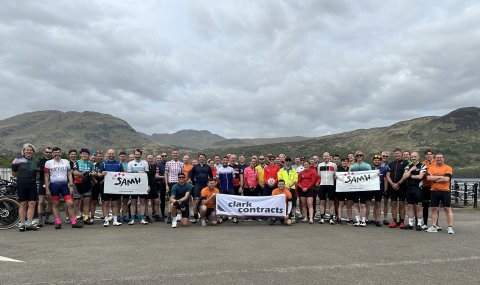 On Friday 19th May, Clark Contracts held their 11th annual Spring Classic at Loch Katrine, which raised over £2,000 for their nominated company charity, Scottish Association for Mental Health (SAMH).
The event, which involved a 30 mile cycle around the banks of Loch Katrine, was attended by over 60 cyclists from the construction industry.
Luckily this year the sun was shining, and it was a dry ride for everyone, which started at Trossachs Pier, with the cyclists competing for prizes for the fastest Hill Climb, Time Trial, Overall Men's Winner, Overall Women's Winner and Overall Team Performance.
The iconic Dukes Pass marked the start of the hill climb where the competition began with a Cat 3 hill climb stretching over 3 miles where the riders battled to be awarded the 'King of the Mountains' jersey.
Enda Williamson of Wilson + Gunn Architects, was first to the top with a time of 9 minutes and 40 seconds, which is a new record for the event. Enda was followed by Chris Miller from Avison Young, with a time of 11 minutes and 37 seconds.
After a quick rest at the top of the hill climb, the riders made their way through Aberfoyle and to the start of the 3 mile time trial competition.
There was some fierce competition during this section, with Enda and Chris Shields from TCS Construction Consultants being the star performers, with Enda beating Chris to the title by 29 seconds and all riders completing this section in under 15 minutes.
Following the time trial, it was time for a quick pit stop at Stronachlacher for some tea, coffee and cake before our prize-giving ceremony!
Following his impressive performance in both competitions, Enda Williamson of Wilson + Gunn Architects, who previously won the event in 2021, was crowned the Overall Men's Winner, with the prize from the Hill Climb presented to runner up Chris Miller from Avison Young, and the Time Trial prize presented to third place, Chris Shields of TCS Construction Consultants.
Hannah Freirich of Woolgar Hunter was presented the Maglia Rosa jersey for the best overall women's performance, which was a 4th victory at the event for Hannah.
Next up was the team prize, with teams entered by Avison Young, Will Rudd Davidson, Stallan-Brand and Woolgar Hunter
With the impressive performance of the whole team from Avison Young, it was no surprise that their team came out on top.
Following a short rest, the cyclists made their way back to Trossachs Pier round the north of Loch Katrine before everyone headed home.
Rachael Martin, Corporate Partnerships Fundraiser at SAMH said "For the third year in a row Clark Contracts have supported SAMH with their annual Spring Cycle Event! Through the challenges lockdowns, pandemic recovery, and a cost of living crisis, this team continue to inspire us with their wholehearted support for SAMH and improving Scotland's mental health. This support, during SAMH's Centenary year, helps us to enact our We Won't Wait strategy which sets out demands for better mental health support, and our ambition for people to be able to ask once and get help fast. It's only with the support of partners like Clark Contracts and their amazing teams that we can achieve this, and we can't thank you enough."
If you have not already registered your interest in attending our Spring Classic and would like to join us for future events, please email springclassic@clarkcontracts.com.