Clark Contracts hold 9th annual 'Spring' Classic
1st September 2021 By Clark Contracts Ltd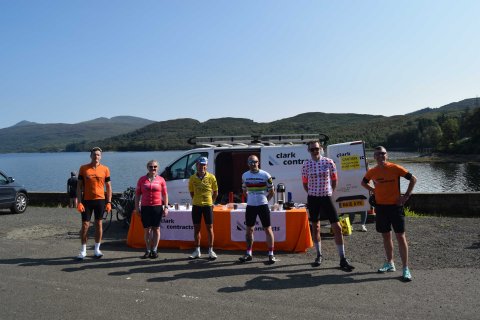 On Friday 27th August, Clark Contracts held their annual 'Spring' Classic at Loch Katrine, which had been pushed back from its usual May date to August due to Covid-19 restrictions.
The event was attended by over 40 guests and a team of 6 cyclists from Clark Contracts, raising funds for Scottish Association for Mental Health (SAMH).
The route involved a 30 mile cycle around the banks of Loch Katrine, with prizes up for grabs for the fastest Hill Climb, Time Trial, Overall Winner, Overall Female Winner and Overall Team Performance.
With the sun shining, the ride began with a bunch ride to the start of the iconic Dukes Pass where the competition began with a Cat 3 hill climb stretching over 3 miles where the riders battled to be awarded the 'King of the Mountains' jersey.
Manuel Cozzani of Mott MacDonald was first to the top, with an impressive time of 10 minutes and 16 seconds, which was a new record at the event and was closely followed by the reigning champion, Enda Williamson, from Wilson + Gunn Architects who recorded an impressive time of 10 minutes and 35 seconds with all competitors times ranging between 10 and 20 minutes.
After a quick rest at the top of the gruelling hill, the riders made their way through Aberfoyle and to the start of the 3 mile time trial competition, where the world champion jersey was up for grabs.
There was some fierce competition during this section, with Manuel and Enda again being the star performers, with Manuel beating Enda to the title by 9 seconds and all riders completing this section within 15 minutes.
Following the time trial, it was time for a quick pit stop at Stronachlacher for some tea, coffee and cake before our prize-giving ceremony!
Following his impressive performance in both competitions, Manuel Cozzani of Mott MacDonald was crowned the overall winner, with the prizes from the Hill Climb and Time Trial being presented to the runners up in these events.
Virginia Beckett of Regent Capital was presented the Maglia Rosa jersey for the best female performance, having also improved on her previous times.
Next up was the team prize, with teams entered by 3D Reid Architects, Avison Young, Dougall Baillie Associates, G1 Architects, Mott MacDonald, Struer Consulting Engineers, Woolgar Hunter and Archi Velo Glasgow.
With Manuel Cozzani of Mott MacDonald being the one to beat throughout the day, it was no surprise that Mott MacDonald were the leading team, where Manuel was joined by colleague, Paul Mason. The runners up were G1 Architects and Avison Young in second and third place respectively.
Following a short rest, the cyclists made their way back to Trossachs Pier round the north of Loch Katrine before everyone headed home.
If you have not already registered your interest in attending our Spring Classic and would like to join us for future events please email info@clarkcontracts.com.