Clark Contracts making a difference to charities across Scotland
2nd May 2019 By Clark Contracts Ltd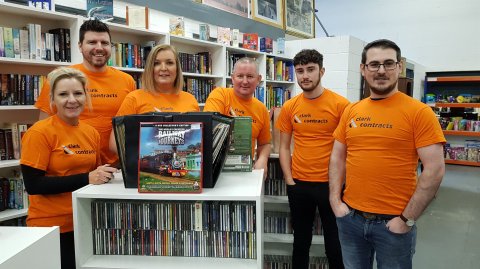 Since November 2017, all 260 employees at Clark Contracts have been given one paid working day per year to spend volunteering for a registered charity of their choice.
In the last 12 months, 700 hours have been spent supporting various charities across Scotland including St Vincent's Hospice, Lifesavers Scotland and ACCORD Hospice.
Five members of staff from our Head office in Paisley used their paid volunteering day to help out at Renfrewshire Foodbank warehouse where they were organising food donations and creating food parcels. A member of the Administration Team from our East office also helped out at The Trussell Trust's Falkirk foodbank, which is the largest in Scotland and an employee from our Construction Division's Estimating department volunteered at their local North Ayrshire foodbank.
Another group of employees also volunteered for Paisley charity, ACCORD Hospice, helping with some gardening at the hospice's new retail store on Glasgow Road in Paisley.
One of our Contracts Manager's from our Construction Division also spent the day volunteering for Fair Start Scotland, where he completed photography for their calendar and carried out some tiling works.
Gordon Cunningham, Managing Director, Clark Contracts said "We think it is important for employees to be given this time to support a charity of their choice. It is great to see most of our employees take up this opportunity to volunteer and make a difference to so many charities across Scotland. "
Our annual foodbank collection has also just finished, with all items donated going to local Trussell Trust foodbanks across Scotland.
Click here to view a collection of photographs from the charity days completed over the last 12 months.
Look inside our Head Office:
Look inside our Edinburgh Office