Clark Contracts officially launch partnership with SAMH
30th June 2022 By Clark Contracts Ltd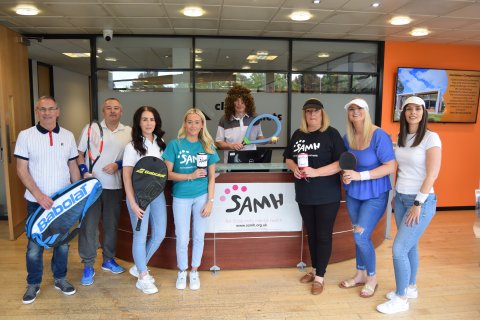 Clark Contracts has officially launched a fundraising partnership with SAMH (The Scottish Association for Mental Health) who is the company's new nominated company charity.
The partnership began in 2020, although due to Covid-19 restrictions, fundraising opportunities were limited, and therefore the company officially launched the partnership with a Wimbledon themed event on Friday 24th June 2022, to coincide with the start of the prestigious tournament.
To raise money, in the morning there were strawberry tarts for sale, followed by a lunchtime table tennis tournament and pizza for all staff and sites. The company also auctioned off tickets to the Liam Gallagher concert at Hampden and held a raffle to win a 'Duvet Day', with the winning employee being able to use an additional day's holiday. In total the event raised over £1,000, which will be donated to SAMH.
Although fundraising opportunities were limited, Clark Contracts still managed to raise over £1,700 of vital funds for the charity in 2021. This was achieved through twelve employees taking part in the Inverclyde Triathlon, donations from customers and consultants as part of the company's Annual 'Spring Classic' cycling event, and one of their Quantity Surveyor's walking one million steps in August (an average of 32,500 steps per day).
So far this year, the contractor has also raised funds through employee participate in the Isle of Bute Triathlon which raised over £200, and their 10th Annual Spring Classic event, where over £2,000 was raised.
Following last week's Wimbledon themed fundraiser, Clark Contracts have now over £5,000 for SAMH.
As the partnership continues, Clark Contracts hope to raise funds through further events across their offices and sites and participation in external events. The funds raised during the partnership will help SAMH to provide local mental health support and accessible information across the country.
Rachel Martin, Corporate Partnerships Fundraiser at SAMH said, "All of us at SAMH are delighted to be in partnership with Clark Contracts. It's really encouraging that staff voted to make mental health their cause and we're looking forward to working collaboratively on both increasing awareness and raising vital funds for Scotland's mental health. It's fantastic that you've been able to kick off the partnership with multiple fundraising events, including the Bute Triathlon, Annual Spring Classic and your Wimbledon Fundraiser. Thank you so much to everyone who has organised, taken part, and donated."
Gordon Cunningham, Managing Director, Clark Contracts added: "The decision to partner with SAMH was made by our employees and we are looking forward to working closely with the charity to maximise our fundraising and seeing the difference these funds can make. We also recognise the importance of the mental wellbeing of our employees and are always trying to raise awareness of mental health and look forward to continuing this through our partnership with SAMH."
SAMH has on the ground services in over 60 communities in Scotland. These include housing support, care at home, employability services, care homes and counselling. They campaign at a national level on key issues ranging from suicide prevention to children and young people's mental health.