Clark Contracts present Alan Calder Memorial Prize
9th July 2021 By Clark Contracts Ltd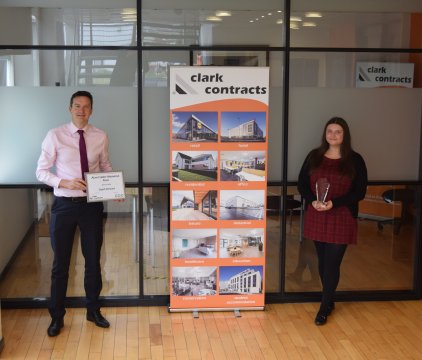 Clark Contracts has presented the top-performing student from their Academy in the 2019-2020 academic year, with the Alan Calder Memorial Prize.
From 2008 until 2019, this award was presented to the Top Final Year Student at Glasgow Caledonian University's School of Engineering and the Built Environment annual prize-giving.
From 2020, this became an in-house award which will be presented annually to the top-performing student from the contractor's award-wining Academy, with the winner being selected using a number of factors, including academic results, attitude to studies, university attendance and feedback from university.
The award was established in 2008 following the death of Clark Contracts employee, Alan Calder. Alan, a Chartered Quantity Surveyor, joined Clark Contracts in 2004, as General Manager of the company's divisions for Small Works, Insurance and Maintenance.
For the 2019-2020 academic year, the prize has been awarded to Trainee Quantity Surveyor, Steph who works within Clark Contracts' Edinburgh office. Steph is currently in her 4th year of the part time BSc (Hons) Quantity Surveying course at Glasgow Caledonian University, and aims to graduate in July 2022.
Gordon Cunningham, Managing Director of Clark Contracts, said: "Alan was a great mentor and his personal commitment to the development of young people was well respected throughout the industry. Alan sadly passed away in 2008 and the award was formed in his memory. We are delighted to now be using this award to recognise the top performing students from our Academy."
Look inside our Head Office:
Look inside our Edinburgh Office