Clark Contracts presented with Third Consecutive President's Award
18th September 2018 By Clark Contracts Ltd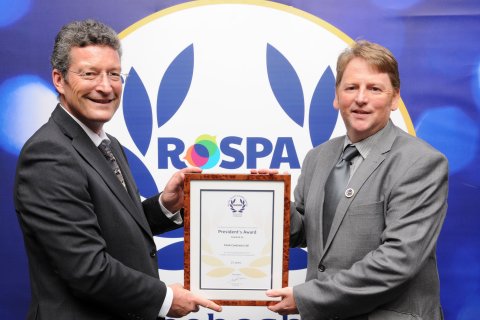 Clark Contracts has been presented with its third consecutive President's Award at the Royal Society for the Prevention of Accidents (RoSPA)'s Health and Safety Awards 2018.
To receive the President's Award, Clark Contracts has achieved 12 consecutive Gold Awards by demonstrating excellent occupational health and safety management systems, a rigorous approach to occupational health, a continued high level of performance and compliance with control measures.
The award was presented to Gordon MacKenzie, Health, Safety, Environment and Quality Manager for Clark Contracts by Errol Taylor, RoSPA Chief Executive during the awards ceremony at the Hilton Hotel in Glasgow.
Gordon Cunningham, Managing Director, Clark Contracts, said "We are committed to continually improving our health and safety performance and putting the safety of our employees at the forefront of our business. To achieve recognition from one of the most highly respected occupational awards for a 12th consecutive year reinforces this commitment and we are extremely proud to be receiving our third President's Award at this years' ceremony."
Julia Small, RoSPA's head of qualifications, awards and events, said: "The RoSPA Awards are the most highly-respected in the health and safety arena, with almost 2,000 entrants every year, and allow organisations to prove excellence in the workplace, demonstrating a commitment to the wellbeing of not only employees but all those who interact with it."
RoSPA is the longest-running industry awards scheme in the UK, and involves judges considering entrants' overarching occupational health and safety management systems, including practices such as leadership and workforce involvement. The majority of awards mark achievement at merit, bronze, silver and gold levels. Gold medals, president's awards, orders of distinction and the Patron's Award are presented to organisations sustaining the high standards of the gold level over consecutive years.