Clark Contracts raise over £12,000 for Teenage Cancer Trust
18th July 2019 By Clark Contracts Ltd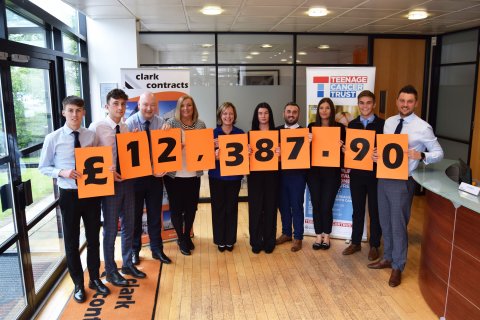 Since April 2018, main contractor, Clark Contracts has raised over £12,000 for its nominated company charity, Teenage Cancer Trust.
Clark Contracts launched their partnership with Teenage Cancer Trust in April 2018, with an initial target of raising £10,000 for the charity. Fundraising has now passed this target with the total currently sitting at £12,387. The contractor plans to continue its partnership until the end of the year with the aim of reaching a grand total of £15,000.
The money has been raised through office fundraising events organised by the company's Steering Group, including an Easter Hamper Raffle and Halloween Bake Off. Employees have also participated in a number of organised events, including Tough Mudder which raised £1,600 and annual Spring Classic Cycling event which raised over £2000.
Audrey Murray, Regional Fundraising Manager for Teenage Cancer Trust said, "On behalf of Teenage Cancer Trust, we are hugely grateful to the Clark Contracts' team for their support and generosity, which will make a real difference to the lives of young people with cancer. This funding boost could pay for more than 330 hours of specialist nursing care for 13-24 year olds, and will help us get closer to our goal of reaching every young person diagnosed with cancer in the UK."
Gordon Cunningham, Managing Director, Clark Contracts added: "It has been fantastic to be able to support Teenage Cancer Trust through our company fundraising events and pass the target we had initially set. We are looking forward to continuing our support for the rest of the year!"
To continue the fundraising, Clark Contracts' employees plan to take part in organised events such as Pedal for Scotland and the Great Scottish Run, both held in September, and to hold further office fundraising events such as a Summer Raffle and Quiz Day.
The money raised will help Teenage Cancer Trust create world class cancer services for young people in the UK between the ages of 13-24, providing life-changing care and support so young people don't have to face cancer alone. You can read more about the work Teenage Cancer Trust do on their website.