Clark Contracts raise £1,000 for SAMH with Halloween fundraiser
27th October 2023 By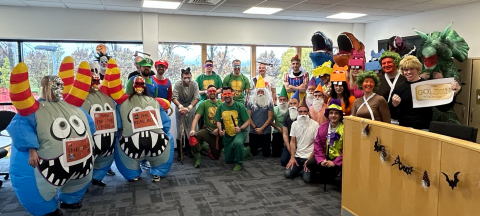 On Friday 27th October, Clark Contracts held their annual Halloween fundraising event for nominated company charity, SAMH - Scottish Action for Mental Health, raising over £1,000 for the charity.
The event included a fancy dress competition with employees dressing up as Teenage Mutant Ninja Turtles and Splinter, Snow White and the Seven Dwarfs, Mario and Luigi, a Mini-Bar, Hungry Hippos, along with a variety of ghouls, ghosts, witches, monsters and dinosaurs.
The best team prize was presented to the Fit Out division who dressed as Willy Wonka, Charlie Bucket and the Oompa Loompas whilst the best individual prize was awarded to the contractor's Head of Design Management, who was a 'gruesome butcher' for the day.
A Halloween cake sale was held in the morning and at lunchtime, employees were treated to some pies and pizza whilst they participated in a range of games to raise funds for SAMH - Scottish Action for Mental Health. The games included a 'balloon room' which saw employees pop balloons to find those with winning tickets hidden inside, toss the coin and dooking for apples.
The raffle was then drawn, with the lucky winner receiving a voucher for an overnight stay for two at the voco Grand Central Hotel in Glasgow.
Gordon Cunningham, Managing Director, Clark Contracts added: "We are delighted to now have raised over £12,500 for SAMH since officially launching our partnership in June 2022. We hope this fundraising helps them continue to carry out their vital work in supporting individuals across Scotland."
Rachael Martin, Lead Account Manager at SAMH said, "We love working with Clark Contracts and seeing what creative and engaging fundraising challenge they put on next! The team have showed generous and unwavering support throughout 2023, our centenary year, and we can't thank them enough for taking action for Scotland's mental health with us."
SAMH has on-the-ground services in over 70 communities in Scotland. These include housing support, care at home, employability services, care homes and counselling. They campaign at a national level on key issues ranging from suicide prevention to children and young people's mental health.