Clark Contracts raise £1,000 for SAMH with Halloween fundraiser
4th November 2022 By Clark Contracts Ltd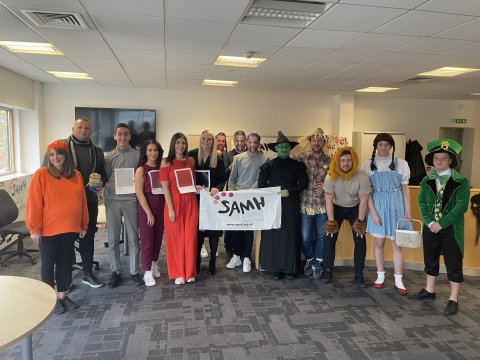 On Friday 28th October, Clark Contracts held a Halloween fundraising event for nominated company charity, Scottish Association for Mental Health (SAMH), raising over £1,000 for the charity.
The event included a fancy dress competition, a cake sale, a pumpkin-carving competition, some lunchtime games, and a raffle.
Some of the costumes included The Wizard of Oz, pantone colours, a leprechaun, a pumpkin and Gru from the Minions movies.
A bake sale was held from 10am and then at lunchtime, there were a range of games including darts, table tennis and dooking for apples.
Later in the day, there was a 'Marshmallow challenge' where employees competed to see who could fit the most marshmallows in their mouth, with the winner recording an impressive score of 11. Prizes were then awarded for the best team and individual costumes, with The Wizard of Oz being crowned the best team costume, whilst Dorothy also won the best individual prize.
The raffle was then drawn, with the lucky winner receiving a voucher for an overnight stay for two at the voco Grand Central Hotel in Glasgow.
Clark Contracts has been supporting SAMH since 2020, but due to Covid-19 restrictions fundraising opportunities were limited and the partnership was officially launched in June this year.
Gordon Cunningham, Managing Director, Clark Contracts added: "Having officially launched our partnership with SAMH earlier this year, we are delighted to now have raised over £6,000 for the charity. They carry out vital work in supporting individuals across Scotland, and we hope this fundraising helps them continue this vital work. We look forward to continuing our partnership and increasing awareness of mental health."
SAMH has on the ground services in over 60 communities in Scotland. These include housing support, care at home, employability services, care homes and counselling. They campaign at a national level on key issues ranging from suicide prevention to children and young people's mental health.