Clark Contracts raise £750 for SAMH with 'Masters' fundraiser
5th April 2023 By Clark Contracts Ltd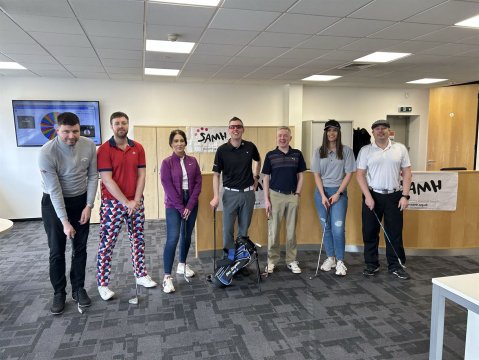 On Friday 31st March, Clark Contracts held a 'Masters' fundraising event for nominated company charity, Scottish Association for Mental Health (SAMH), raising £750.
The event, which was held in advance of the 2023 Augusta Masters commencing, included a cake sale, putting competition and WiiGolf, with the opportunity to win a range of prizes including gift vouchers for a round of mini-golf, various gift sets and sweet treats. A raffle was also held, with the lucky winner receiving an additional day's holiday.
Clark Contracts has been supporting SAMH since 2020, but due to Covid-19 restrictions fundraising opportunities were limited and the partnership was officially launched in June 2022. Since then, the company has raised over £8,000 for the charity.
Gordon Cunningham, Managing Director, Clark Contracts said: "We are delighted to have raised a further £750 for SAMH, which brings our total raised since June 2022 to over £8,000. The charity was selected by our employees, and they have shown great support to our partnership so far, which is supporting the vital work done by SAMH. We look forward to continuing our partnership and increasing awareness of mental health."
Rachael Martin, Corporate Partnerships Fundraiser at SAMH added, "It's brilliant to see Clark Contracts continue to offer meaningful and wholehearted support for SAMH, through their fundraising and by promoting the importance of good mental health in the workplace We always look forward to seeing which fantastic fundraiser they'll come up with next! Thank you to the whole team and everyone who donated and got involved. Your support is so valuable in raising funds and awareness for Scotland's mental health, which means so much to all of us at SAMH."
SAMH has on the ground services in over 60 communities in Scotland. These include housing support, care at home, employability services, care homes and counselling. They campaign at a national level on key issues ranging from suicide prevention to children and young people's mental health.