Clark Contracts recognised following 16 years of continued health and safety excellence
25th July 2022 By Clark Contracts Ltd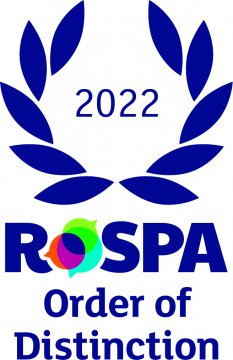 Clark Contracts has been awarded a second consecutive Order of Distinction in the Royal Society for the Prevention of Accidents (RoSPA)'s Health and Safety Awards 2022.
To receive the Order of Distinction, Clark Contracts demonstrated excellent occupational health and safety management systems, a rigorous approach to occupational health, a continued high level of performance and compliance with control measures.
The Order of Distinction is awarded to those companies who have achieved 15 or more consecutive Gold Medal Awards from RoSPA.
Gordon Cunningham, Managing Director, Clark Contracts, said: "We are committed to continually improving health and safety performance throughout the company, and this recognition from one of the most highly respected occupational awards for a 16th consecutive year reinforces this commitment."
Julia Small, RoSPA's Achievements Director, said: "This is a fantastic and well-deserved accomplishment. All our award entrants demonstrate their unwavering commitment and passion for keeping people safe at work. By receiving this recognition, Clark Contracts join like-minded businesses and organisations worldwide, who represent the very best in their approach to Health and Safety.
I would like to add my personal thanks for all the work that it has taken to secure this well-deserved award – congratulations to all those involved, who champion and drive-up Health and Safety standards every day. You are a fantastic example to others in your sector."
The RoSPA Awards scheme is the longest running of its kind in the UK, and received entries from organisations across the globe, making it one of the most sought-after achievement awards for health and safety worldwide. The awards process involves judges considering entrants' overarching occupational health and safety management systems, including practices such as leadership and workforce involvement.
The majority of awards mark achievement at merit, bronze, silver and gold levels. Gold medals, president's awards, orders of distinction and the Patron's Award are presented to organisations sustaining the high standards of the gold level over consecutive years.
Organisations receiving a RoSPA Award are recognised as being world-leaders in health and safety practice. Every year, nearly 2,000 entrants vie to achieve the highest possible accolade in what is the UK's longest-running H&S industry awards.