Clark Contracts support charities through corporate volunteering scheme
18th May 2023 By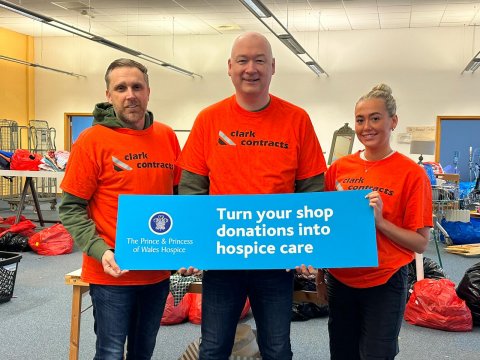 Since 2017, Clark Contracts has offered all their employees the opportunity to spend one paid working day per year volunteering for a charity of their choice.
This initiative means that over 2,000 hours can be spent supporting charities across Scotland, and over recent months, a number of the contractor's employees have used this benefit to support charities including Erskine, Fresh Start Scotland, Finding Your Feet, Hansel, Move on Wood Recycling and the Prince and Princess of Wales Hospice.
Two employees from the company's Design Management team, spent the day supporting Erskine, which provides unrivalled support to Veterans in Scotland. The team undertook a stock take of their inventory and merchandise before joining the residents of McKellar and Haig House for a reminiscence session in the 'Bunker', to socialise with the residents and rekindle memories.
Six employees, based in Clark Contracts' Edinburgh Office, spent a morning volunteering for Fresh Start Scotland, who help people who have experienced homelessness set up their new home. This team helped out in Fresh Start's warehouse in Pilton, Edinburgh, where they helped organise and clean donations.
The contractor has also supported Paisley-based Finding Your Feet, with two separate volunteering days. The first of these was completed by the Marketing and Business Development department, who completed some gardening works, followed by a team of Quantity Surveyors who assisted with moving furniture.
Three separate groups of employees from the contractors Fit Out Division, Construction Division and HR and Recruitment department volunteered with the Prince and Princess of Wales Hospice, where they helped organise donations which will be sold in the charity's retail stores.
Ayrshire-based charity, Hansel, has also benefitted from the initiative, with a Senior Contracts Manager and a Senior Quantity Surveyor, spending a day painting the interior of their new den at Red Rose House respite centre in Stevenston.
Finally, the company's Managing Director has supported Move on Wood Recycling (MOWR), by offering them support and guidance to help them grow the charity by identifying new business opportunities. MOWR are now receiving further support from a member of the contractors Marketing team, to help develop their marketing strategy.
Gordon Cunningham, Managing Director of Clark Contracts, said, "This initiative was introduced following a suggestion by our company 'Steering Group', and it is brilliant to see so many employees using the benefit to provide valuable support to a wide range of charities, who all do amazing work within their communities and across the country. We hope this continues as the year goes on, with charities continuing to benefit from our employee's time."