Clark Contracts support Glasgow Caledonian University student awards
31st January 2022 By Clark Contracts Ltd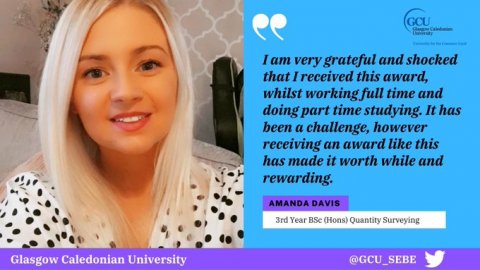 Clark Contracts has continued its support of Glasgow Caledonian University's School of Computing, Engineering and Built Environment by sponsoring the award for the Best Performing 3rd Year Quantity Surveying Student.
The prize was awarded to Amanda Davis, who is in her 3rd year of the Quantity Surveying course, during the virtual prize-giving ceremony on Wednesday 26th January.
Clark Contracts has been supporting the School of Computing, Engineering and Built Environment prize-giving for over 20 years and also engages with Glasgow Caledonian University to provide annual placements for both Quantity Surveying and Construction Management students and currently has over 15 employees studying at the university.
Award winner, Amanda, said, "I am very grateful and shocked that I received this award, whilst working full time and doing part time studying. It has been a challenge, however receiving an award like this has made it worthwhile and rewarding."
Gordon Cunningham, Managing Director at Clark Contracts added: "We have now been sponsoring awards as part of this prize-giving ceremony for over twenty years now, and it is always fantastic to see the hard work and dedication of the students being recognised."
Jillian Watt, Director of the GCU Foundation said: "Our annual School of Computing, Engineering & Built Environment prizes, recognise the achievements of our talented students as they enter the final stages of their educational journey. Amanda Jane Davis was awarded as Best overall student for 3rd Year Quantity Surveying Programme, sponsored by Clark Contracts. The award is testament to her hard work and gives her CV a further boost ahead of graduating."
Founded in 1978, Clark Contracts Ltd is a privately owned main contractor with six operating divisions; Construction, Fit Out, Small Works, Retail, Maintenance and Manufactured Joinery. The company works throughout the UK, employing over 220 employees and won the 'Best Place to Work' award at the UK wide Construction News Talent Awards 2019. The proportion of business derived from repeat customers each year has averaged 79% over the past five years and 72% of customers rate the contractor as 'Impressive' or 'First Class'.