Contractor starts early with visit to West Nursery
24th December 2018 By Clark Contracts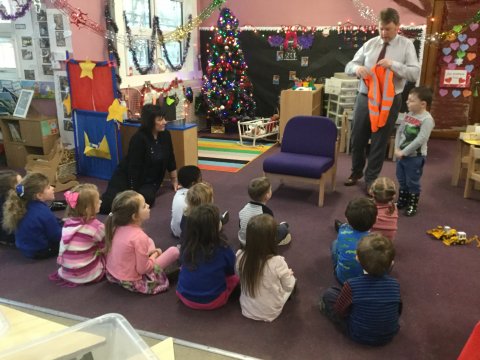 The contractor completing the external refurbishment of West Primary School visited the school's nursery class on Wednesday 12th December.
Clark Contracts' Health, Safety, Environment and Quality Manager spoke to the children about the equipment and roles required on construction sites and the dangers that exist. The children also participated in a construction themed colouring in activity.
Michael Scanlan, Director, Clark Contracts, said "We recognise the importance of engaging with the communities in which we work and raising the profile of the construction industry."
Clark Contracts' head office is located on McFarlane Street, less than 2 miles from the nursery and the contractor will be carrying out similar activities with the pupils of West Primary School in the new year.
The Paisley based contractor also completed work at Mossvale Primary School and Nursery Class and St James' Primary School carrying out similar nursery and school engagement activities in 2016.
Look inside our Head Office:
Look inside our Edinburgh Office