Cordale Housing Association New Office Opening Event
26th March 2019 By Clark Contracts Ltd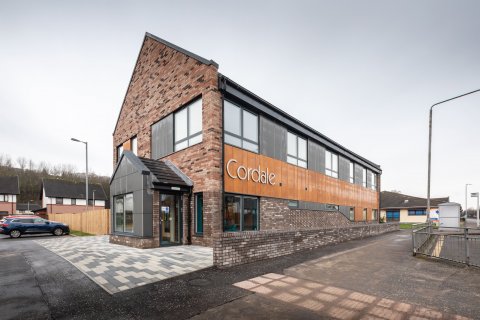 Ahead of their move next month Cordale Housing Association opened the doors of its new office on Main Street in Renton on Friday morning to preview their new modern, flexible working facilities to the staff, community and key partner organisations.
The £1.6million new Housing Association office delivered by main contractor, Clark Contracts, is based in the heart of Renton improving resident access to Cordale and Caledonia Housing Association services. The building has revitalised the Main Street, replacing the long-standing dilapidated and empty shops, transforming the physical appearance of the area that had previously been in environmental decline.
The new office pays fitting tribute to former Chair, the late Isobel Barr, whom the new Board Room has been named after in recognition of her unique contribution to Cordale's history and recent accomplishments.
Speaking at the event Margaret McCallion, Chair of Cordale's Board, spoke passionately about Cordale's achievements over recent years and in talking about the new office commented: "The Cordale committee always had an ambition to build on this particular location. We knew it would transform the appearance of the village. The empty shops that were situated on this site were an eyesore. They had lay derelict for over a decade. The heart of our village was an environmental blight, a source of frustration to all those that resided in and cared about Renton.
Did we ever think it was possible to regenerate where we stand today and build a new office? Possibly not. Initially it seemed a fanciful dream. It's not been easy to get to where we are at today. I am therefore delighted to be standing in front of you celebrating the completion of the new office. "
Following an official ribbon cutting ceremony at the front door Caledonia Housing Association Chief Executive Julie Cosgrove commented: "I am extremely proud of what the Caledonia and Cordale partnership has achieved in a very short period of time, the partnership has used its collective strength for the benefit of the community to bring further investment, new homes and now the new office to the area."
Michael Scanlan, Director, Clark Contracts said "It was fantastic to work with Cordale Housing Association to deliver this project and we hope their staff settle in and enjoy their new base."
View more photographs in our image gallery.