Edinburgh Careers Event held by Clark Contracts
26th April 2017 By Clark Contracts Ltd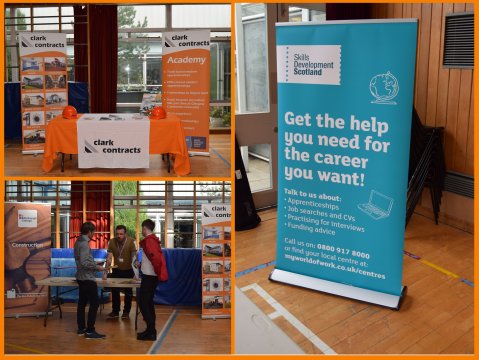 Local students, pupils and potential candidates attended a careers event for apprenticeship and traineeship opportunities held by Clark Contracts at Gate 55, Sighthill, Edinburgh on Thursday 20th April.
The construction, refurbishment and maintenance contractor is offering at least 15 apprenticeships and traineeships for various trades, quantity surveying, construction management, site management and administration.
Attendees had the opportunity to meet with the company's Recruitment Team and current employees to find out more about careers at Clark Contracts and how they can progress through the company's highly successful Academy.
Clark Contracts partners Edinburgh College, Edinburgh Guarantee and Skills Development Scotland also attended to speak to potential candidates.
David Cooper, Director, Clark Contracts said, "As we had such a fantastic response to our first careers event in Paisley last year, we decided to hold a similar event in Edinburgh as well as Paisley this year. We have met some very talented, skilled and enthusiastic people at a variety of levels, who could be a valuable addition to the team here and we look forward to further discussions with them. As we work towards closing the skills gap in the construction industry, it's important for us to spread the word about what we are doing here with our Academy."
Founded in 1978, Clark Contracts Ltd is a privately owned construction, refurbishment and maintenance main contractor working across all sectors. Operating across 5 divisions; Construction, Fit Out, Small Works, Maintenance and Bespoke Manufactured Joinery, Clark Contracts employs over 250 staff with offices in the East and West of Scotland.
As an Investors in Young People Gold accredited employer, Clark Contracts believes its employees are key to the successful delivery of projects and is committed to investing in new talent. Over 90% of employees said they felt they had opportunities to learn and grow and 96% of employees said they were proud to work at Clark Contracts which is the only Scottish registered company to be shortlisted for the 'Training Excellence' award at the 2017 Construction News Awards.