Falkirk Crematorium Upgrade Complete
2nd January 2018 By Clark Contracts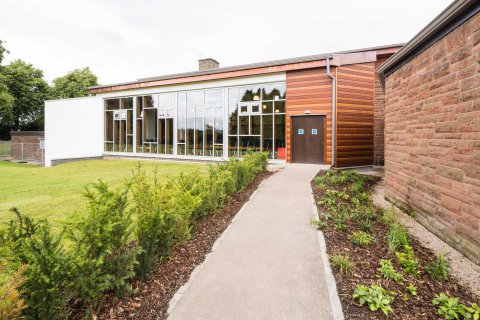 Clark Contracts has completed the £2.5m refurbishment and extension of Falkirk Crematorium for Falkirk Council.
The works were completed in two phases with Phase 1 comprising the refurbishment of the existing building along with a new build extension to the existing chapel and entrance vestibule and catafalque.
The crematorium officially re-opened for services in July 2017, whilst the second phase of works continued to replace the existing cremators.
The new facilities will allow the chapel to cater for larger services which will reduce the spill out into the waiting area.
Councillor Paul Garner, environment spokesperson for Falkirk Council, said: "This is the first major refurbishment of the Crematorium since it opened in the 1960s. The original character and feel of the building has been retained but now offers a more modern setting and improved surroundings for grieving families and friends."
Michael Scanlan, Director, Clark Contracts said, "It has been great to continue or relationship with Falkirk Council on this project to provide improved facilities at Falkirk Crematorium and we look forward to working with them again in the future."
Look inside our Head Office:
Look inside our Edinburgh Office