Fit out works complete at Atlantic Quay, Glasgow
22nd February 2019 By Clark Contracts Ltd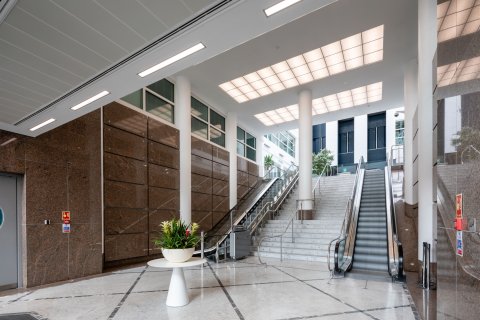 Extensive fit out works at Atlantic Quay in Glasgow's IFSD area, totalling over £20m, are now complete.
Working for Resonance Capital, Clark Contracts has been on site at Atlantic Quay 1 and 3 completing CAT A and CAT B fit out works across a total of 15 levels.
The Department for Work and Pensions now occupies 85,000 sq. of space within Atlantic Quay 1. The works to Atlantic Quay 1 comprised stripping out and remodelling the basement, plantroom and the ground to 6th floors including all office areas, toilets and lift lobbies to modernise the building.
The Scottish Courts and Tribunal Service now fully occupy 79,500 sq. ft. of open plan flexible office space over Atlantic Quay 3's ground and six upper floors. Clark Contracts created 34 hearing rooms along with the installation of bespoke judge's benches which were produced by its in house Manufactured Joinery Division.
Atlantic Quay 3 features a new double height reception new air conditioning system throughout, new LED lighting throughout three lifts in addition to a separate goods lift. The building also offers 31 secure car parking spaces and 100 secure cycle racks in the basement.
This project is a finalist in the refurbished or recycled category of the 2019 BCO (British Council for Office) Awards and with the winners due to be announced on Friday 17th May 2019.
Lianne Clark, Director, Resonance Capital, said "Both of the AQ projects had their challenges but we had a fantastic team appointed to ensure both projects were completed to a high standard.".
Gerry Cummins, Director, Clark Contracts said "It has been fantastic to reach completion of these extensive fit out projects. We hope the new tenants are enjoying their new office space and that we can work together with the team again in the future."
The Atlantic Quay buildings offers its tenants a contemporary business community with amenities such as a prescription delivery service, art exhibitions that support local talent and social and fundraising events.