Foundation Apprenticeships at Clark Contracts
26th October 2018 By Clark Contracts Ltd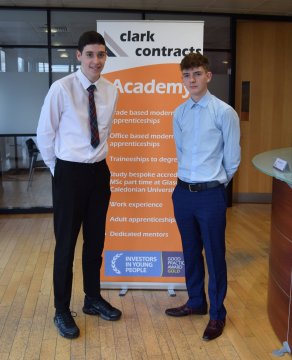 Two Inverclyde Academy pupils have joined Clark Contracts to complete a Foundation Apprenticeship.
The two pupils, both aged 17, will spend time working with Clark Contracts' employees in their head office in Paisley, on site and at West College Scotland to complete their Foundation Apprenticeship in Civil Engineering. The course is completed over two years and is the equivalent of an SQA Higher qualification.
The 5th year pupils will attend college to learn about topics such as health and safety in the construction industry, mechanics for construction and construction engineering mathematics.
The course allows the pupils to trial the role they are interested in before they leave school.
This is the second round of foundation apprenticeship placements Clark Contracts has provided to pupils attending West College Scotland studying the Foundation Apprenticeship in Civil Engineering, within the last year.
Sharron Rodger, FA Project Manager, West College Scotland said "We have an excellent relationship with Clark Contracts and they have been very pro-active with supporting the FA programme. The young people are getting involved with a wide range of the roles as they rotate round different departments giving them opportunity to experience many different jobs roles within the industry and enhance their skills base"
Gordon Cunningham, Managing Director, Clark Contracts said "Following on from the success of our first foundation apprentice placement, we committed to offering this again to two new pupils. We hope the work experience provided inspires them to pursue a career in the construction industry."
Clark Contracts' Academy also supports the learning and development of young people through sponsoring students at college and university, offering trade apprenticeships, office based apprenticeships and work placements for students studying relevant topics at university.
The company has been shortlisted for the 2018 ROCCO business award for Developing the Young Workforce and will find out if it has been successful at the awards ceremony which takes place on Friday 16th November.
Watch our Foundation Apprenticeship video to hear from our last placement pupil Derry.
Founded in 1978, Clark Contracts Ltd is a privately owned main contractor with six operating divisions; Construction, Fit Out, Small Works, Retail, Maintenance and Manufactured Joinery. The company works throughout the UK, employing over 250 employees and is number 72 on the 2018 Sunday Times Best Companies to Work for List. The proportion of business derived from repeat customers each year has averaged 76% over the past ten years and 72% of customers rate the contractor as 'Impressive' or 'First Class'.