Halfway point reached on £4.5m project at Edinburgh's Oriam
11th April 2023 By Clark Contracts Ltd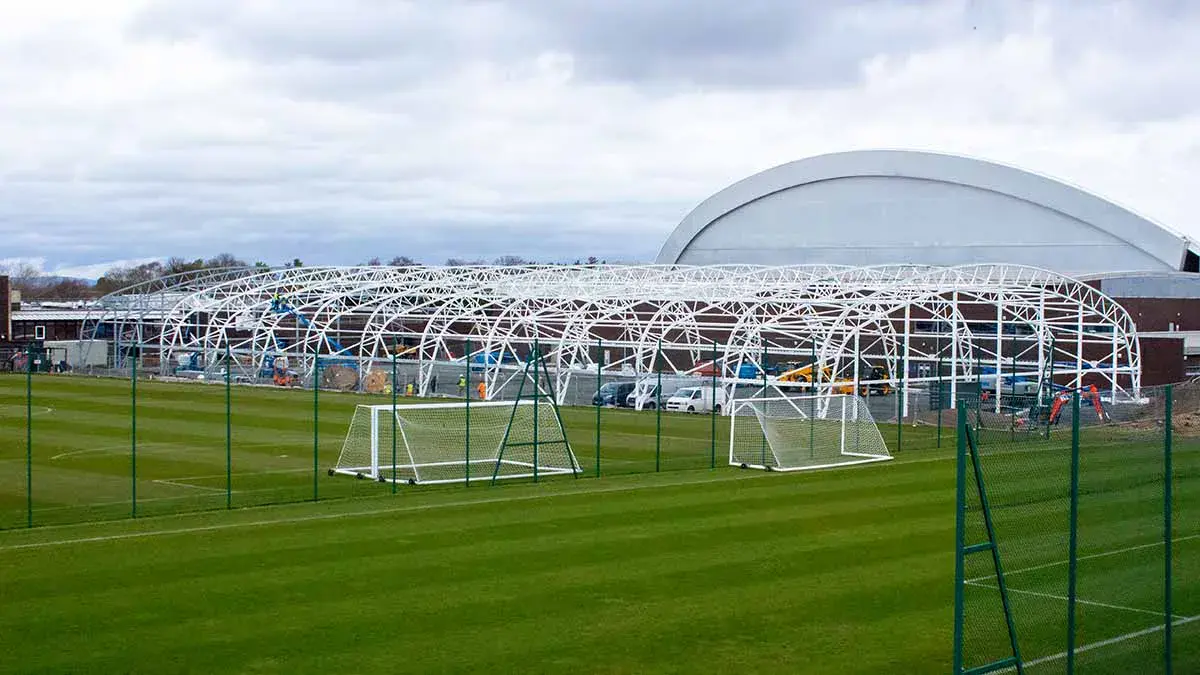 The £4.5 million construction of six indoor tennis courts at Oriam has reached the half way point, Heriot-Watt University has confirmed.
Clark Contracts is leading the build of the facility, which is being constructed with the 'latest' technology at Heriot-Watt's Edinburgh campus. Ground was first broken on the project in September last year, with the steel framework now arching over the 4,000 square metre site.
The university said that the courts will have some of the 'finest' acrylic playing surfaces 'found anywhere in the country' and will be suitable for both recreational and competitive matches.
The project is being funded in a partnership between Oriam, Heriot-Watt University, the LTA, sportscotland, and Tennis Scotland through the Transforming Scottish Indoor Tennis (TSIT) fund.
Chris Sellar, head of delivery at Oriam, said, "I'm thrilled we've now reached this key milestone in the construction phase of our new indoor tennis centre. It will not only serve as a hub for the local community to engage in the sport but provide a high-quality event venue and training ground for our athletes. We look forward to the completion of this project and the countless opportunities it will bring to Oriam and Heriot-Watt University."
Professor Mark Biggs, vice principal and provost at Heriot-Watt University, added, "This state-of-the-art facility will not only enhance our athletic programs but also bring significant benefits to the wider community. With six new indoor courts, we will be able to host top-talent and national tournaments all-year round for the public to experience as well as be available for the wider community in a way that reflects Heriot-Watt's mission to serve its communities.
"We are excited to see the positive impact this project will have and look forward to welcoming athletes and the public more widely to this impressive new facility."
Look inside our Head Office:
Look inside our Edinburgh Office