Halloween Fundraising at Clark Contracts
8th November 2018 By Clark Contracts Ltd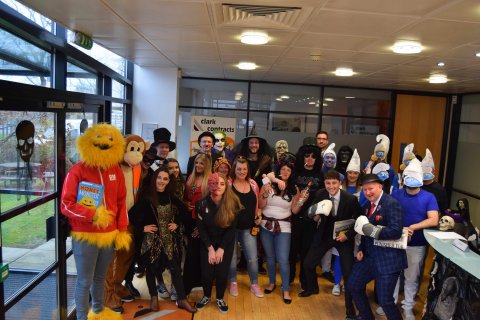 Clark Contracts held a Halloween Fancy Dress Day and Bake Off on Friday 2nd November across their East and West offices. Staff dressed up in their best costumes and baked some gruesome cakes in a bid to win 'Best Dressed' and 'Star Baker' whilst raising money for nominated company charity, Teenage Cancer Trust.
Some of the costumes included Snow White and the Seven Dwarfs, Smurfs, The Honey Monster and Charlie Chaplin, with Snow White and the Seven Dwarfs scooping the prize for 'Best Dressed', whilst it was a tie in the bake-off with a spooky spiders web Victoria Sponge and a brain themed Red Velvet cake taking joint 1st place.
An employee from each department and division took on the 'Marshmallow Challenge', competing to see who could fit the most marshmallows in their mouth in 30 seconds.
A raffle was also held with prizes including an overnight stay for 2 at the Raddison Blu Hotel in Glasgow, a gift voucher for Slaters and a Gin tour at Pickering's Summerhall Distillery.
Following a contribution by the company, a total of £2,000 was raised for Teenage Cancer Trust. So far this year, Clark Contracts have also raised funds through a Pyjama Day and participation in events including Pedal for Scotland, Rough Runner, the Great Scottish Run and the Inverclyde Team Triathlon.
Gordon Cunningham, Managing Director, Clark Contracts added: "We are delighted to have raised over £6,000 since beginning our partnership with Teenage Cancer Trust earlier this year. The decision to partner with the charity was made by our employees and we are looking forward to continuing our fundraising and seeing the difference we can make."
Around seven young people aged between 13 and 24 are diagnosed with cancer every day in the UK and Teenage Cancer Trust are the only charity dedicated to ensuring they receive specialist treatment and support. You can read more about the work they do on their website.
You can view some photos from the event here.