Health and Safety Awards 2018
12th December 2018 By Clark Contracts Ltd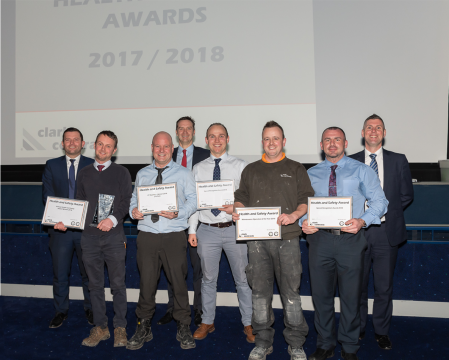 Our Annual Health and Safety Awards Ceremony was held on Tuesday 4th December at the Odeon Cinema at Braehead.
Our Health, Safety, Environment and Quality (HSEQ) Manager, Gordon MacKenzie, hosted the event, which was attended by our project teams from across Scotland. During the ceremony, our HSEQ Manager provided an overview of the company's health and safety performance, highlighting examples of best practice and any common issues, in order to minimise reoccurrence.
Our HSEQ team carry out fortnightly audits on all sites, recording compliance and beyond compliance, as well as any issues relating to health, safety or the environment, which must be rectified.
Prizes are presented to the project teams and individuals recording the highest compliance rates in their audits throughout the year, and to those who go beyond the minimum standards by implementing innovative techniques.
The awards up for grabs at the annual ceremony included:
Annual Health and Safety Award
4th Quarter Divisional Health and Safety Awards
Special Recognition Award 2018
Maintenance Operative of the Year 2018
Each quarter, awards are presented to the highest performing project teams from each of our company divisions. During the awards ceremony, the fourth quarter awards were presented to the best performing teams from our Small Works, Construction and Fit Out Divisions, before moving on to the annual awards.
The prestigious Annual Health and Safety Award was presented to a Site Manager from our Construction East Division who is currently delivering our project to construct the new Kinnaird Early Years Campus for Falkirk Council. This individual was selected as a result of a consistently high performance throughout the year and the development of innovative, beyond compliance practices.
This was our third year of presenting a Special Recognition Award and this year there were two recipients. The first was awarded to a Site Manager from our Small Works East Division who had 15 inspections with no non-conformance issues raised and the second was awarded to a Contracts Manager from our Construction East Division, who maintained a compliance percentage of 99% over 60 audits across various projects.
The final prize of the night was for our Maintenance Operative of the Year, which was awarded to a joiner, who was rewarded for achieving a compliance rate of 100%.
The awards are a key part of our health and safety culture which has supported our success in the Royal Society for the Prevention of Accidents (RosPA)'s annual awards. We were presented with our 3rd consecutive 'President's Award' in 2018 following 12 consecutive Gold Medal awards.
You can view photos from the awards ceremony here.