Kilmardinny House shortlisted as one of the UK's Civic Buildings of the Year
12th June 2018 By Clark Contracts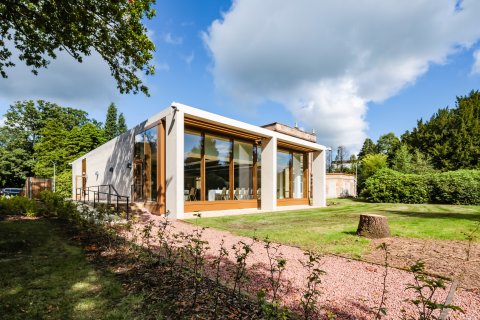 A rejuvenated landmark building in Bearsden is in the running for a prestigious UK-wide honour.
Kilmardinny House has been shortlisted for Civic Building of the Year by SPACES (Society for Public Architecture, Construction, Engineering and Surveying) – one of just 19 projects chosen from across the UK.
The Grade A-listed building reopened last year after a £2.73m programme of works – delivered by East Dunbartonshire Council in conjunction with the Leisure and Culture (EDLC) Trust and development partner hub West Scotland with Clark Contracts.
SPACES' judges will visit Kilmardinny and the other projects in the coming months, with the winner announced on 11 October.
Joint Council Leader, Councillor Andrew Polson, said, "I am delighted that Kilmardinny House has been shortlisted for such a prestigious award, taking its place alongside some of the most inspirational and ambitious projects in the whole of the UK. I am also pleased to confirm that Council has committed an additional £120,000 to further enhance landscaping at Kilmardinny."
Joint Council Leader, Councillor Vaughan Moody, said, "This is great news and well deserved following an ambitious project of rejuvenation and extension – which involved significant investment in a major local asset – ensuring it remains fit for purpose for many years to come."
Sandy Marshall, Chair of EDLC Trust, added, "Kilmardinny House supports a wide range of arts, cultural services and events, as well as being a popular venue for weddings, family occasions and more."
The new garden pavilion extension provides a modern, flexible space which can accommodate a variety of activities, while Kilmardinny House itself features a mixture of office, activity and meeting spaces, as well as a refurbished community theatre.
Iain Marley, CEO, hub West Scotland, said, "Kilmardinny House is the 11th project we have delivered for East Dunbartonshire Council. Our supply chain partners Clark Contracts and Mast Architects have delivered a modern extension which is sympathetic to the listed premises – revitalising the building and providing the Council with an excellent investment for the community to enjoy."
Michael Scanlan, Director, Clark Contracts, said, "It is fantastic to be shortlisted for this prestigious award and we look forward to finding out if we have been successful in October."
The project was delivered alongside Mast Architects, Armour Construction Consultants, Henderson Warnock (M&E) and Fairhurst Engineers.