Larbert pupils build safety knowledge with Clark Contracts
13th September 2018 By Clark Contracts Ltd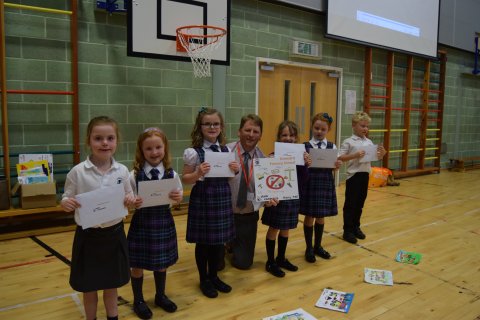 Pupils at Kinnaird Primary School, in Larbert, learned about health and safety on live building sites, with a competitive edge.
Construction, refurbishment and maintenance contractor, Clark Contracts, is constructing a new early years' campus within the school's grounds to provide improved facilities for up to 220 nursery and primary pupils.
The contractor's Health, Safety, Environment and Quality Manager visited Kinnaird Primary School along with the Site Manager to deliver a presentation, to 600 children, highlighting the dangers on a construction site. The children were then asked to design posters to alert others of the dangers they had learned about.
A winner was selected from each of the nineteen classes who were individually presented with a book voucher by our Site Manager.
In addition, the overall best design from the school, has been professionally printed for display around the site.
Gordon MacKenzie, Health, Safety, Environment and Quality Manager, Clark Contracts, who presented the prizes to pupils said, "It was important for us to ensure that the children at the primary school are fully aware of the dangers associated with live construction sites as they are passing our site every day. We were impressed with all of the posters, especially the winning design as it showed a clear and creative understanding of the safety messages we delivered during our presentation."
The construction of the new early years' facility will provide 230m2 of nursery space for 3 and 4 year olds, 4 infant primary classrooms, a kitchen/dining area and outdoor play areas. Following completion, the existing nursery will be converted into classrooms, providing further capacity at the school.