Learning and Development site tour for Clark Contracts Trainees
3rd June 2022 By Clark Contracts Ltd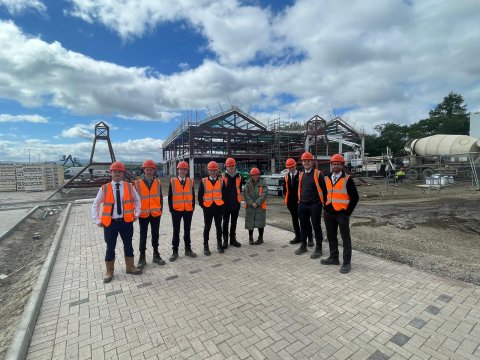 On Friday 27th May, several commercial trainees from Clark Contracts award winning Academy visited the main contractor's project to design and build Ian Macleod Distillers new headquarters in Broxburn.
The trainees, comprising individuals who have recently graduated and those who are currently studying at Glasgow Caledonian University, visited site to gain an insight into the complexity that comes with various groundwork details, witness the concrete pours on the metal decking and gain insight into the complex steelwork involved with the project, specifically to the glazed units which are being installed on the roof.
The project team conducted a tour of the site explaining the works carried out to date. Whilst on site, trainees were also able to experience first-hand the 150m3 concrete pour of the floor slab prior to the envelope works commencing next week.
Jack, Trainee Quantity Surveyor, Clark Contracts said "It was a great experience today gaining an insight into steel decking along with the valuable knowledge we received from the project team."
Sean, Trainee Estimator, Clark Contracts added "As an Estimator I have been involved in a wide range of projects in the early stages of my career, and the opportunities to get out on active sites are great. Visits like these not only allow us to get to see the different trades in person rather than on a drawing, but also appreciate the careful planning and co-ordination required to deliver a project successfully."
Gordon Cunningham, Director, Clark Contracts, said "We recognise the importance of encouraging our trainees to visit our projects to develop a greater understanding of how theory learnt at university is put into practice. It is also essential for our commercial team members to fully understand the construction process and this is an integral part of their learning and development through our Academy."
Look inside our Head Office:
Look inside our Edinburgh Office