Major refurbishment of Curran Building completed by Clark Contracts
12th August 2021 By Clark Contracts Ltd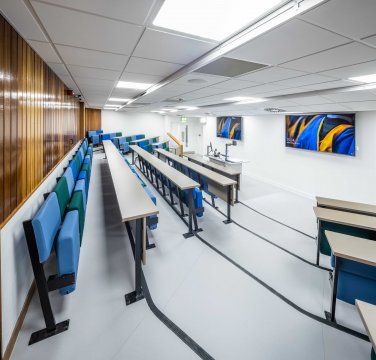 Clark Contracts has completed the £1.1m refurbishment of Level 3 of the University of Strathclyde's Curran Building.
The building, which is home to the university's Andersonian Library, underwent internal alterations and refurbishment works to form a new open plan space and upgraded library and study areas.
The works have been completed simultaneously with structural and roof repairs to the building, which are also being delivered by Clark Contracts.
Clark Contracts has been appointed to the University of Strathclyde's Minor Works Framework since 2007, and in the last 2 years has delivered 9 projects within the university campus including refurbishment works within Chancellor's Hall, the Henry Dyer Building, University Centre, Livingstone Tower and The Royal College.
Gerry Cummins, Director, Clark Contracts, said, "We have been working with the University of Strathclyde for over 20 years and it has been fantastic to continue to develop this relationship over the last few months on the delivery of two projects at the Curran Building"
Look inside our Head Office:
Look inside our Edinburgh Office