Manufactured Joinery Division produce bespoke hand-sanitising stations
3rd July 2020 By Clark Contracts Ltd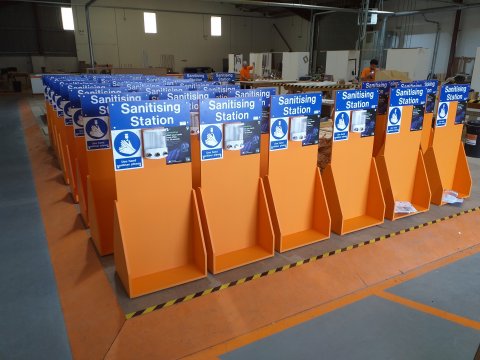 As part of our safe return to work, our Manufactured Joinery Division have produced bespoke hand-sanitising stations for all of our sites.
The stations were produced from exterior grade plywood and painted to match our corporate colours, within our purpose-built 10,000sq.ft. manufacturing facility beside our Head Office in Paisley.
Having been originally founded as a specialist joinery company in 1978, our Manufactured Joinery Division has 40 years' experience of manufacturing bespoke products using traditional hardwoods, modern sheet and solid acrylic surface materials.
Our Manufactured Joinery Division's portfolio ranges from contemporary reception desks and bars to the restoration and replication of historical items such as timber mouldings, doors, handrails and sash and case windows.
The team are currently producing bespoke furniture for projects including the restoration of the David Livingstone Birthplace Museum, the refurbishment of Fruitmarket Gallery in Edinburgh and the construction of new student accommodation on Calton Road in Edinburgh.
Find out more about our Manufactured Joinery Division on its dedicated website www.manufacturedjoinery.com and remember to follow us on LinkedIn and Twitter.
Look inside our Head Office:
Look inside our Edinburgh Office