New Lidl Supermarket for Bathgate
13th March 2019 By Clark Contracts Ltd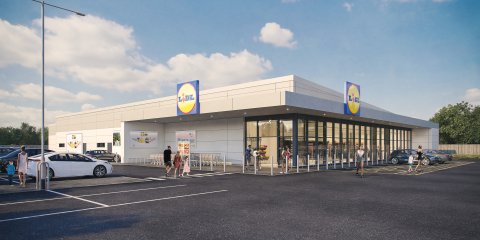 A new Lidl store is due to be constructed in Bathgate by Clark Contracts.
Construction, refurbishment and maintenance contractor Clark Contracts will be delivering the design and build of the new supermarket on Whitburn Road in Bathgate.
The construction work will create a new food retail unit together with an office, warehouse, delivery and staff welfare facilities totalling around 20,000 sq. ft.
The Bathgate store will be the 9th project Clark Contracts' Retail Division has delivered for Lidl since they began working for the Supermarket chain in 2014.
Lidl UK's Regional Head of Property, Gordon Rafferty, commented: "There's been much anticipation for this new Lidl store and it's great that we are now in a position to break the ground and start the build. We are extremely grateful for all the support that we have received so far, and would like to thank everyone for their patience and understanding whilst we enter this next phase of the development."
Michael Scanlan, Clark Contracts, said "It is fantastic to continue our relationship with Lidl and we are looking forward to delivering our 9th Lidl supermarket."
The new store will add to Lidl UK's existing store portfolio of 720 and will form part of the company's growth plans which hope to see it open up to 50 stores a year.
Clark Contracts has previously completed projects for Lidl in Livingston, Greenock, Arbroath, Slateford, Edinburgh Easter Road, Craigmiller, Ayr and Bucksburn.