New Moorpark Primary reaches major milestone as works near completion
28th April 2023 By Clark Contracts Ltd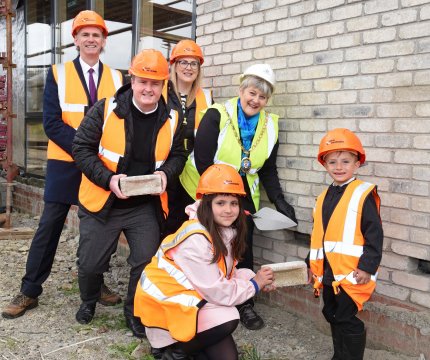 Construction of the new Moorpark Primary is moving forward as a major milestone has been reached.
North Ayrshire Provost Councillor, Anthea Dickson, laid the final brick to mark the building being secure and watertight.
Work on the £10.85m facility – sitting adjacent to the existing school – started in 2021 and is on course to be complete by September this year.
The school is part of North Ayrshire Council's Capital Investment Programme, which will see improvements for school estate worth £140 million, delivered over the next 10 years.
One of the Council's key priorities is sustainability, and for this new school the environmental performance of the building was a significant factor in the development of its design and selection of materials.
The new Moorpark Primary will have 12 primary classes and a 24-place Early Years facility.
Provost Anthea Dickson said: "It is a real honour to mark this latest milestone and we are all looking forward to the school being complete later this year.
"We are sure it will be a brilliant asset for the staff, young people, their families and community for years to come."
Councillor Tony Gurney, Cabinet Member for Place, said: "It is really exciting to see this development taking shape and moving forward. Being here today allows us to recognise the progress being made – in what have been testing times for the construction sector – and look forward to the school being open. It's not long and you can really sense that the anticipation is growing.
"Not only is it going to be a fantastic learning environment, the building will also be energy efficient and it has been developed with sustainability at its core."
Some of those key features include:
The building is structured so that there is minimal air permeability, which in turn has one of the biggest impacts in reducing carbon emissions.
The sustainable build system requires less transportation to and from site as there are less trades needed, and it also reduces the potential for thermal bridging.
The building will employ an effective natural ventilation strategy which will provide natural, fresh air throughout the year and solar pv panels will also be installed to provide free, renewable electricity for the school building.
Sustainable travel to the school will be supported through improvements to local pedestrian and cycle pathways, as well as the provision of new cycle and scooter storage facilities at the school for all pupils, staff and visitors to use.
Clark Contracts are carrying out the work at Moorpark and Director, Michael Scanlan added, "We are delighted to have reached this major milestone and we look forward to continuing our relationship with North Ayrshire Council and the design team over the coming months, as the project progresses to completion."