New Moxy Hotel Opens Next to Edinburgh Airport
29th January 2019 By Clark Contracts Ltd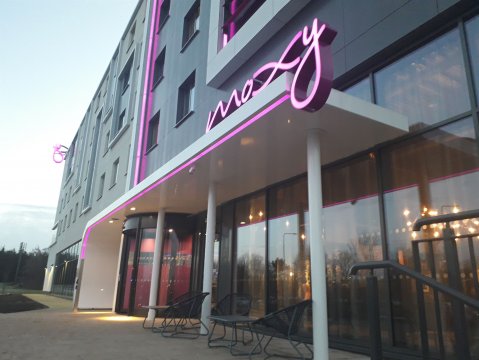 A new Moxy Hotel has opened its doors to guests at Edinburgh Airport, creating 36 jobs.
The new build hotel, Moxy's first in Edinburgh, was constructed by Clark Contracts and is located on the Royal Highland showground site beside Edinburgh Airport.
The 230 bed hotel's design is book themed, inspired by the capital's Unesco Cities of Literature status.
Launched in 2014, as part of the Marriott Hotels group, Moxy is a new global brand offering 'fun, vibrant, stylish and affordable' hotels. The Edinburgh Hotel is the third Scottish hotel it has launched in two years.
Key features that can be found across all the Moxy hotels include a vibrant lobby with bar, 24/7 self-service grab and go food concept and an extensive number of power points for personal devices.
Michael Scanlan, Director, Clark Contracts, said "It was fantastic to attend the official opening of our first completed Moxy Hotel. We have enjoyed working with Vastint and the design team involved in this project and hope to continue to work with them in the future".
Clark Contracts is also delivering the construction of new Moxy Hotels in Southampton and Birmingham. The 208 bed Moxy Hotel in Southampton is situated on the city's Harbour Parade, facing the well-known West Quay Shopping Centre with the 224 bed Birmingham hotel located next to the NEC campus in Solihull.
Look inside our Head Office:
Look inside our Edinburgh Office