New Potterrow Student Accommodation Complete
15th April 2019 By Clark Contracts Ltd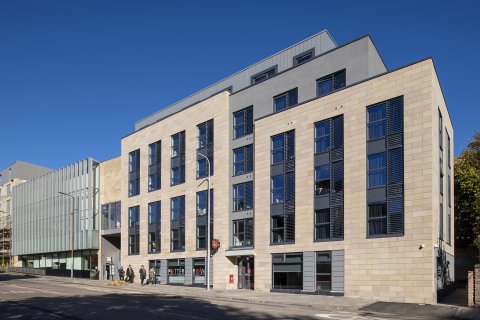 Clark Contracts has completed the design and build construction of new student accommodation at 22-24 Potterrow in Edinburgh for Curlew Property.
The new building, which is located a short walking distance from The University of Edinburgh, features 52 studio apartments in addition to common rooms and amenity areas across 6 floors.
Each apartment features its own spacious work area, storage and a double bed. Shared apartments has its own fully fitted kitchen and living area with its own dishwasher, high spec bathroom with bath and shower. Studio apartments come with their own en-suite shower room and private mini kitchen.
The building was constructed with stone cladding to blend in with the surrounding buildings.
Offsite construction was used to create bathroom pods improving the quality of the build and reducing the construction time on site.
Michael Scanlan, Director, Clark Contracts said, "It is fantastic for us to have completed and handed over this new build student accommodation which was completed within an extremely restricted site in Edinburgh City Centre."
The project, designed by Yeoman McAllister, was shortlisted for the Student Accommodation of the Year Award at the 2019 Scottish Property Awards.
Look inside our Head Office:
Look inside our Edinburgh Office