New Sofology store and Costa Coffee drive-thru constructed on Glasgow's London Road
6th April 2022 By Clark Contracts Ltd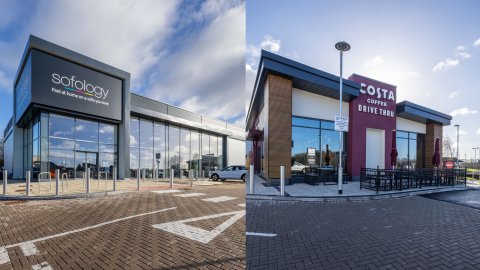 The construction of two new retail units on Glasgow's London Road has now been completed by Clark Contracts.
The contract, completed for London Metric Property, commenced with the demolition of existing buildings on the site at 2239 London Road to make way for the new retail development.
The first outlet, was a 15,000sq.ft. unit for furniture retailer, Sofology, which became their first store in Glasgow and fifth across Scotland.
Following this, a new 1,830 sq. ft. Costa Coffee Drive-Thru was constructed on adjacent land and fitted out to a shell.
Michael Scanlan, Director, Clark Contracts, said "The retail sector has faced significant challenges in recent years, and it is great to see these types of developments progressing again. We were delighted to have delivered this project for new customer, London Metric Property, and we hope to work with the team again in the future."
Clark Contracts has previously delivered numerous retail projects including 11 new Lidl supermarkets across Scotland, a Costa Drive Thru at Hermiston Gait, Edinburgh, Starbucks and Burger King Drive-Thru's in Glenrothes and a Taco Bell Restaurant and Drive-Thru in Greenock.
Look inside our Head Office:
Look inside our Edinburgh Office