Over 100 attend 4th Annual Careers Evening at Clark Contracts
6th March 2019 By Clark Contracts Ltd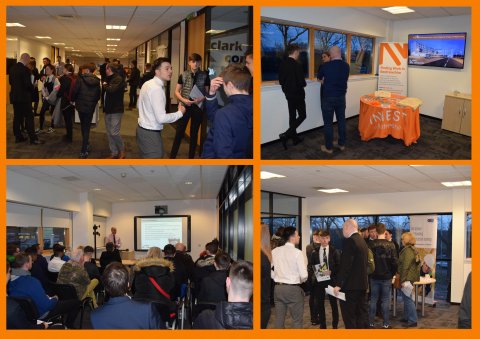 Over 100 people interested in a traineeship or apprenticeship in the construction industry attended a careers evening held by Clark Contracts at its Head Office in Paisley.
The event, held as part of Scottish Apprenticeship Week, took place on Tuesday 5th March and attracted over 100 attendees who had the opportunity to meet the company's recruitment team and current employees to find out more about careers at Clark Contracts. Representatives from Glasgow Caledonian University, the Construction Industry Training Board, West College Scotland, City of Glasgow College and Invest in Renfrewshire also attended to speak to guests.
Clark Contracts' Learning and Development Manager delivered presentations throughout the evening on the company's apprenticeship opportunities, including numerous examples of staff members who started as apprentices and have progressed into other management roles within the company.
Also on hand to talk to attendees were a variety of Clark Contracts' staff, including Quantity Surveyors, Contracts Managers, Estimators and Apprentices who have progressed through the Academy themselves.
Gordon Cunningham, Managing Director, Clark Contracts said, "It was fantastic to meet so many skilled, talented and enthusiastic people at a variety of levels, who could be valuable additions to the team here. Another encouraging factor was the number of parents who attended with their children. We are working hard to close the skills gap in the construction industry and it is vital that parents and other influencers such as teachers buy in to what we are doing here with our Academy".
Clark Contracts is attending a further two events as part of Scottish Apprenticeship Week. One is at the Corn Exchange in Edinburgh for the Developing the Young Workforce Edinburgh Midlothian and East Lothian Young Persons Jobs Roadshow on Wednesday 6th March. The other is in Greenock Town Hall for the Developing the Young Workforce West Region's Inverclyde Careers Fair.
Clark Contracts, listed as number 72 on the Sunday Times Best Companies to work for in the UK list, believes its employees are key to the successful delivery of projects and is committed to investing in new talent. Over 90% of employees said they felt they had opportunities to learn and grow and 95% of employees said they were proud to work at Clark Contracts, winner of the 'Training Excellence' award at the 2017 Construction News Awards.
Look inside our Head Office:
Look inside our Edinburgh Office