Over 100 attend 5th Annual Careers Evening at Clark Contracts
4th March 2020 By Clark Contracts Ltd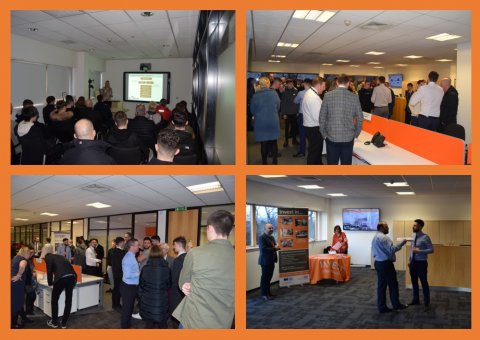 Over 100 people interested in a traineeship or apprenticeship in the construction industry attended a careers evening held by Clark Contracts at its Head Office in Paisley.
The event, which was held during Scottish Apprenticeship Week, took place on Tuesday 3rd March and attracted over 100 attendees who had the opportunity to meet the company's recruitment team and current employees to find out more about careers at Clark Contracts. Representatives from West College Scotland, City of Glasgow College and Invest in Renfrewshire also attended to speak to guests.
A member of Clark Contracts' Recruitment team delivered presentations throughout the evening on the company's apprenticeship opportunities, demonstrating numerous examples of staff members who started as apprentices and have progressed into other management roles within the company.
Also on hand to talk to attendees were a variety of Clark Contracts' staff, including Quantity Surveyors, Contracts Managers, Estimators and Apprentices who have progressed through the Academy themselves.
Gordon Cunningham, Managing Director, Clark Contracts said, "We are delighted that so many skilled, talented and enthusiastic people at a variety of levels, who could be valuable additions to the team here, joined us for our 5th Annual Careers Evening. We are working hard to close the skills gap in the construction industry and it is vital that parents and other influencers such as teachers buy in to what we are doing here with our Academy."
In 2019, Clark Contracts invested £750k in training and development and their commitment was recognised with the main contractor being crowned the 'Best Place to Work' at the UK wide Construction News Talent Awards 2019. This award follows on from their 2018 Sunday Times Best Companies to Work for Listing and the 2017 Construction News Talent Award for Training Excellence.
In addition, Clark Contracts attended the Young Persons Jobs Roadshow on Wednesday 4th March at the Corn Exchange in Edinburgh. This event was organised by Developing the Young Workforce Edinburgh, Midlothian and East Lothian as part of Scottish Apprenticeship Week.