Record-breaking interest in apprenticeships at Clark Contracts
26th April 2021 By Clark Contracts Ltd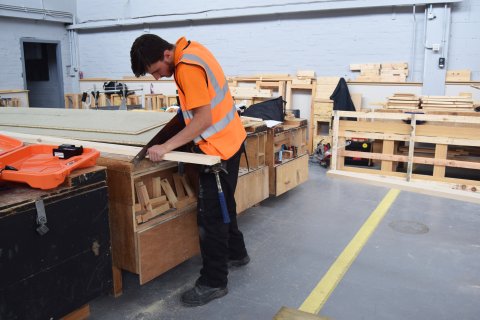 In March, Clark Contracts launched the recruitment for their 2021 intake of trade apprentices.
The contractor will be recruiting apprentices in joinery, plastering and painting and decorating and has received record-breaking interest in the opportunities with over 600 applications received over the last month and applications now closed.
The successful candidates will join Clark Contracts' award-winning Academy to complete the four-year modern apprenticeship scheme and will be supported through their training by the business.
Gordon Cunningham, Managing Director, said "We are delighted to have received this level of interest in our apprenticeship scheme this year, especially having missed the opportunity to recruit new apprentices last year due to Covid-19. We are looking forward to welcoming this year's intake and seeing them progress through our Academy over the coming years."
Over 20% of employees are currently studying towards formal qualifications through Clark Contracts award winning Academy, and in the recent years the contractor has recruited over 40 trade apprentices.
Clark Contracts Academy was awarded the Construction News 'Training Excellence' award at the UK wide awards in 2017 and was shortlisted for the same award again in 2019. The company was also named 'Best Place to Work' at the 2019 Construction News Awards.
Clark Contracts works throughout the UK, employing over 210 employees and featured at number 72 on the 2018 Sunday Times Best Companies to Work for List and number 21 on the Scottish Regional List of Best Companies to Work For in 2018.
Look inside our Head Office:
Look inside our Edinburgh Office