Refurbishment work under way for Marress House
24th May 2021 By Clark Contracts Ltd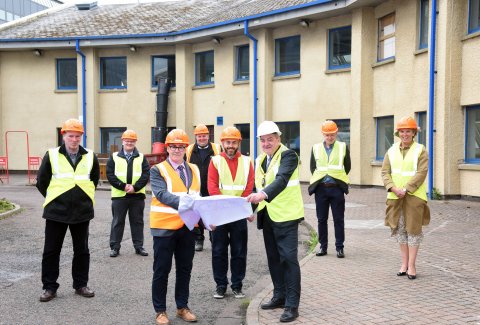 Refurbishment work is getting under way on a new, state-of-the-art Early Years Centre and professional learning and development facility in a building which will also facilitate the relocation of the Council's concierge centre, in Irvine.
Provost Ian Clarkson officially marked the beginning of the construction phase of the development at a special ground-breaking ceremony held on Thursday 20th May. The works are being delivered by Clark Contracts.
The vacant tax office will be transformed into an Early Years Centre (ELC) including outdoor play areas and a professional learning and development facility to support the roll out of the expansion of 1140 hours early years and childcare.
The £3.82 million project will accommodate 42 three to five-year-olds and 21 two to three-year-olds on the ground level and a new ELC professional learning facility on the upper mezzanine floor.
Council Leader Joe Cullinane said: "Marress House was the former home of the HMRC tax office and more recently VOCA call centre. The Council saw this project as an excellent opportunity to bring a local asset back into productive use. The many benefits of new early years facility include the creation of jobs and the welcome boost it will bring to the local economy.
"As a Council, our priority is to provide the highest quality learning to help us build bright futures for all our children and young people.
"Once complete, the new facility at Marress House will provide an additional early year's facility for children in North Ayrshire, offering high quality learning experiences in modern, fit for purpose environments.
"We are currently refurbishing 27 Early Years Centres across North Ayrshire including 14 extensions and 1 new build provision. When completed, the Council will have created additional capacity at 41 facilities through its indoor/outdoor learning model and design brief."
"Marress House will also include an ELC Practitioner and Leadership professional learning facility that will support our ambition to develop a high quality ELC workforce who will lead the way in ELC in North Ayrshire.
"Over time, our aim is that this establishment will become a centre of excellence that will be accessed by partners such as Ayrshire College and external agencies such as private training providers and other local authorities."
Michael Scanlan, Director at Clark Contracts, added "We are delighted to be working with North Ayrshire Council again to deliver this project which will support their increased early years and childcare provision. We look forward to working with the council and design team and engaging with the local community over the coming months."
As well as the early years centre, the Council's CCTV concierge service, will be relocated to Marress House from Fullarton Court following the demolition of the high-rise flats.
The CCTV and Concierge service operates 24 hours a day, 365 days per year. Public CCTV is monitored by the service who work in partnership with Police Scotland other council services. The concierge service provides 24-hour resource to the residents of the multi storey flats in Irvine and Saltcoats including:
fire and smoke alarm monitoring and initial emergency response
door entry control
intercom communications with residents
janitorial services
security patrols (Irvine only)
Given it's a shared premise the safety of the young children will be the priority, a separate entry and exit to the Early Years Centre will be in use.
It is hoped the new early years centre will be complete and open in April 2022. and will operate 8am-6pm over a full year.
Marress House, Friars Croft, Irvine was constructed in the 1990s as a Tax Office, operating until the mid-2010s, then used as a call centre.
The building was then purchased by North Ayrshire Council in 2019 after falling vacant.