Revo Gold Award for Livingston Designer Outlet
6th December 2019 By Clark Contracts Ltd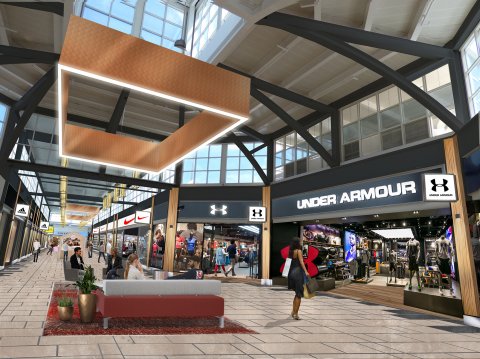 Livingston Designer Outlet has been awarded the 'Re:fresh' award at the prestigious Revo Gold Awards 2019.
The centre, owned by Blackstone Group and managed by retail asset management specialists, Realm Ltd, has recently undergone a £5m refurbishment and rebrand, which was delivered by Clark Contracts. The multi-million pound investment has transformed the shopping destination, creating a new guest experience following growing popularity and the rising number of big brand names choosing to open stores in the designer outlet.
The award was presented during the annual dinner within Grosvenor House Hotel in London on Wednesday 4th December.
The works were completed on a nightshift basis to minimise disruption to the shopping centre, which features over 70 boutiques, restaurants and cafes as well as an 8-screen digital Vue Cinema.
Gerry Cummins, Director, Clark Contracts said, "It is fantastic that the works at Livingston Designer Outlet have been recognised in these prestigious awards and we hope the works we have completed improve the shopping experience for all visitors to the centre"
Clark Contracts Manufactured Joinery Division produced a number of bespoke items as part of the refresh including a customer service desk, lift cladding, feature ceiling and lighting rafts and balusters.
Look inside our Head Office:
Look inside our Edinburgh Office