Double Award Shortlisting for Mackintosh at the Willow
1st April 2019 By Clark Contracts Ltd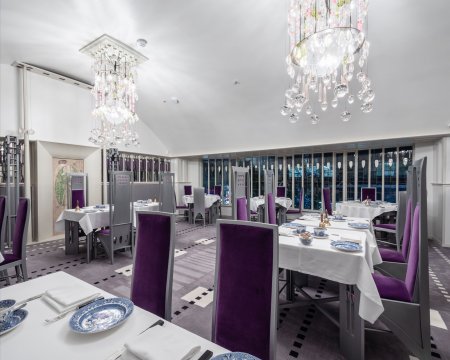 The regeneration of the original Willow Tea Rooms to create the new 'Mackintosh at the Willow' completed by Clark Contracts has been shortlisted in both the Royal Institution of Chartered Surveyors (RICS) Awards and the Royal Incorporation of Architects in Scotland (RIAS) Awards.
Mackintosh at the Willow is a finalist in the Building Conservation category of the 2019 RICS awards which take place on Thursday 2nd May 2019 at the Sheraton Grant Hotel and Spa in Edinburgh.
The project is also one of a 19 strong shortlist of Scottish projects up for a 2019 RIAS award and will find out if it has beat the competition on 30th of May at the awards ceremony which takes place at the Assembly Rooms, Edinburgh.
The original Mackintosh Tea Rooms were designed by Charles Rennie Mackintosh in 1903 and required restoration to ensure the building continued to be celebrated and enjoyed by future generations. Architects, Simpson and Brown, Project Managers and Quantity Surveyors, Doig and Smith, M&E Engineer Rybka and Structural Engineer, David Narro Associates were also part of the team involved in the project.
The restored tea rooms now also feature a new exhibition and visitor centre, learning and education suite, retail store and conference facilities.
The new tea rooms are located across three levels with a variety of Mackintosh designed spaces including the front and back saloons on the ground floor, the gallery, the Billiard Room and the famous Salon de Luxe.
The new visitors centre, was created in the traditional tenement building immediately adjacent to the Tea Rooms at 215 Sauchiehall Street and celebrates the successes of Miss Cranston as a female entrepreneur and her business success.
The interactive exhibition area tells the story of Glasgow in the early 1900s at a time of social change, the growth of the tea houses and the collaboration between Miss Kate Cranston and architect designer Charles Rennie Mackintosh.
Gerry Cummins, Director, Clark Contracts said "For Mackintosh at the Willow to be shortlisted for these prestigious awards is fantastic recognition for the whole team involved in delivering this exciting project. It was an honour for us to be involved in the restoration of this iconic Glasgow building".
As part of the restoration works, Clark Contracts' Manufactured Joinery Division produced over 20 bespoke items, including bench seating, a bar/servery, baldacchino, ceiling grid, screens, wall linings and a fireplace. Many of the items had to be recreated using black and white photographs.