Sod cutting ceremony held to mark start of final stages of Rutherglen Links Business Park
26th June 2019 By Clark Contracts Ltd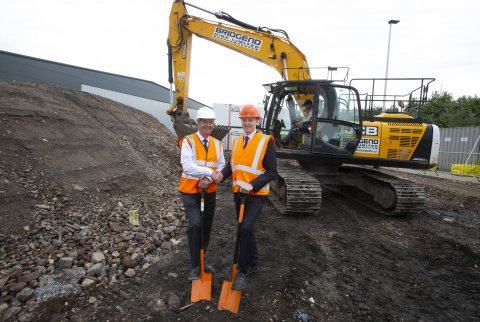 The ceremony, held on Tuesday 25th June, marked the commencement of the £4m design and build of two new office pavilions within Rutherglen Links Business Park, which will be delivered by Clark Contracts for Clyde Gateway.
Jointly financed by a capital grant from the Scottish Government and Clyde Gateway itself, the offices will provide a combined 15,000 square feet of accommodation over two storeys and will be located directly opposite the offices completed within the business park in 2015.
The new buildings will comprise of a steel frame, pre cast concrete floor and roof and facing brick outer leaf and will offer space for up to 116 people depending on the final internal layout and configuration.
Lord Smith of Kelvin, the Chair of Clyde Gateway said: "This is another red letter day for us as the growth of the office market is key to our regeneration efforts. The quality of build at Rutherglen Links Business Park has brought success and helped sustain growth in the local economy, and I have no doubt there will be a big demand for these innovative office pavilions."
Gordon Cunningham, Managing Director, Clark Contracts said "It is fantastic to be working with our new customer Clyde Gateway to deliver these two new office pavilions at Rutherglen Links Business Park."
Rutherglen Links is one of Clyde Gateway's flagship developments, and its combination of office, industrial and trade counter developments will ultimately bring more than 500 jobs to the burgh.
The two pavilions for which the ceremony was held will be built opposite One Rutherglen Links, the four-storey office building that was the first to be constructed within the business park. The pavilions will be targeted towards small to medium enterprises of the type which have been flocking to Red Tree Rutherglen on Stonelaw Road and Red Tree Magenta at Shawfield, both of which are operating at near full-occupancy.
Click here to view more photographs from the sod cutting ceremony within our image gallery.